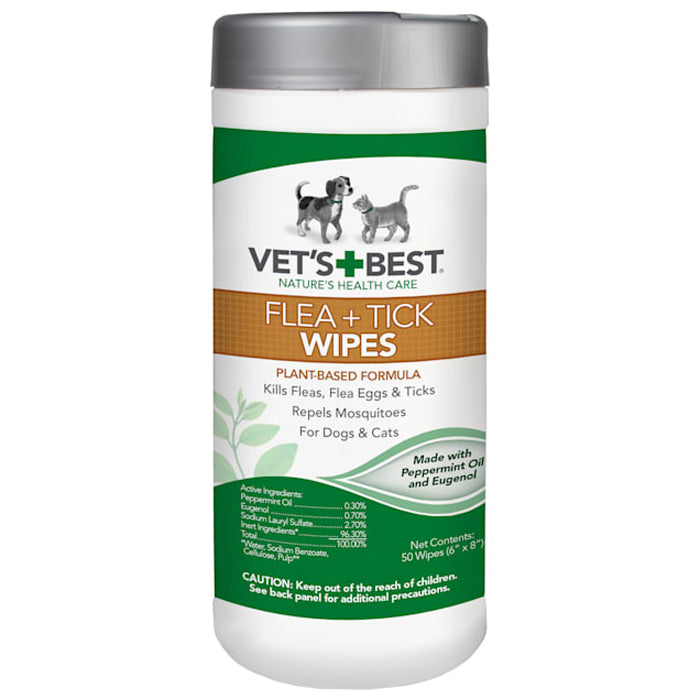 Benefit from nature's most powerful plant extracts with Vet's Best unique blend of Certified Natural Peppermint Oil and Eugenol (from Clove plants) which was carefully formulated to kill fleas and ticks.  For over 30 years Vet's Best has blended premium quality and plant based ingredients that work together to comfort and protect your pet.
Kill Ticks, Fleas, & Flea Larvae.
Repels & kills Mosquitoes.
Safe for use on dogs & puppies over 12 weeks old and cats.
Pleasant smell & no added fragrance.
Made with certified natural Peppermint & Eugenol.
Convenient & easy to use.
Useful for targarted appliation, especially to sensitive areas such as ears.
May also be used on home surfaces such as pet bedding & baseboards.
Contains 50 ultra soft wipes that measure 8" x 6" and free from unnatural plastic resins.
Made in the USA.
Follow the package instructions for use on your dog, puppy, or cat.
The Fun Time dogs highly recommend this product!  Also see the Vet's Best Flea + Tick Spray available at Fun Time Dog Shop.  Spray is for use on dogs & puppies only.
Vet's Best offers a Money Back Guarantee.
Ingredients
: 
Active Ingredients
- Peppermint Oil 0.30%, Eugenol (from clove plants) 0.70% Sodium Lauryl Sulfate (plant-derived) 2.70%
Inert Ingredients - Water Sodium Benzoate (presiverative widly used in foods) 96.30%