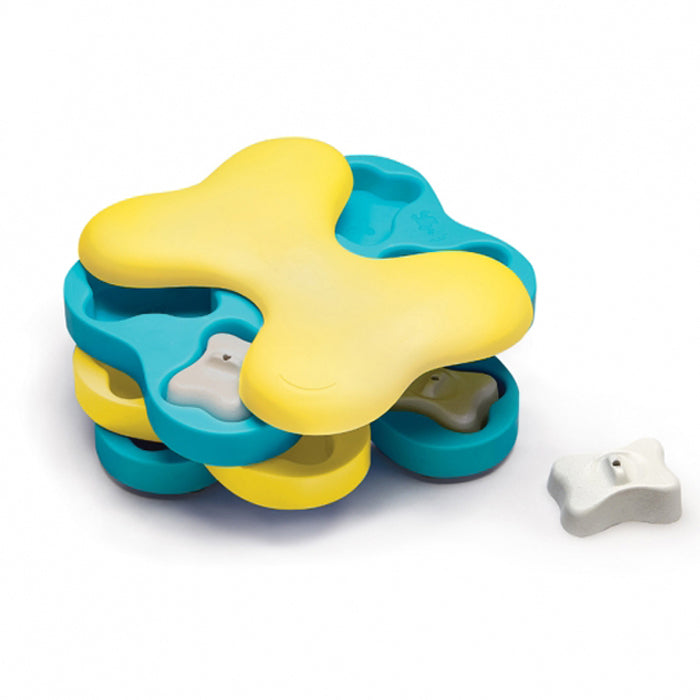 The Dog Tornado is a pet parent's dream working to exercise your dog's mind and body through treat puzzle fun!  With 12 treat compartments in this dog game, The Dog Tornado by Nina Ottosson is a whirlwind of fun.  Each level of the Dog Tornado spins as your dog searches for treats hiding inside. The spinning movement keeps your dog engaged and presents them with a fun and challenging way to play.
Great for dogs of all ages, breeds and sizes.
A Level 2 dog game.  

Different from Level 1 dog games, Level 2 Nina Ottosson dog games present your dog with more interesting ways to problem solve, while giving you new ways to teach and train your dog.  Can be used by all level of dogs.

Great for playtime or a smart and fun choice for mealtime as it holds your dog's favorite wet or dry kibble.
Durable construction helps to keep this dog toy intact, making it your new go-to dog game time after time.
Mix some canned/wet dog food or raw food with water, pour some of the mixture in the hollows, or place a small pieces of treats in it and freeze for a more challenging use later.
Perfect for energetic dogs, hot/cold weather, or just extended fun.
Easy to clean.
11" L x 7.5" W x 3.25" H
Fun to play, time and time again!