Martingale Collar - 5 colors
PetSafe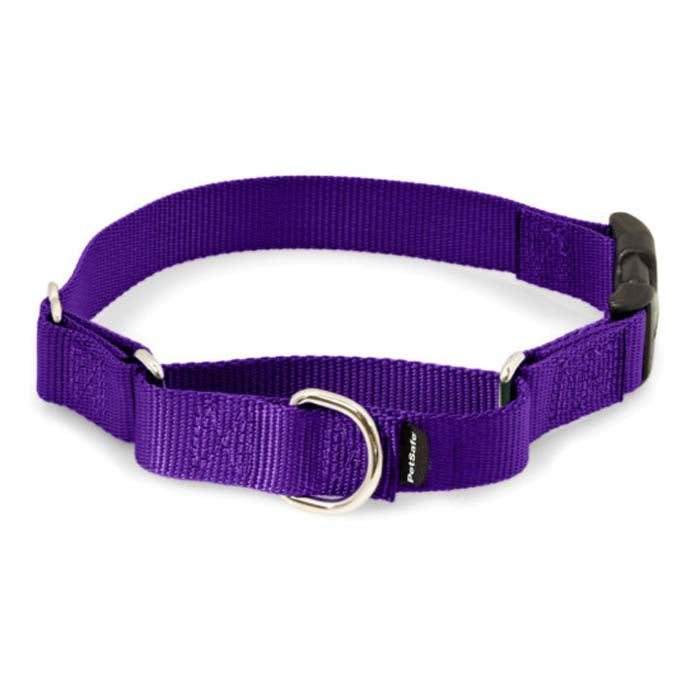 The Martingale Collar gives you greater control and reduces the risk of your dog slipping out and escaping.  Martingale collars are much safer than choke chains or prong collars.  Used with a leash or with your hand, the martingale collar tightens to a size you set and when your dog pulls.  The collar then loosens when your dog stops, so it's only tight when it needs to be. 
Prevents dog from slipping out, escaping, or backing out of their collar.
Tightens when dog pulls for better control & loosens when dog stops pulling.
Secure fit prevents dogs from escaping or backing out of collar.
Works great for dog breeds with necks larger than their heads.
Adjustable size you custom fit.
Doesn't cause matting & bald spots like some standard collars.
Not recommended for tie-out use or during group play session.
Constructed with durable nylon and sturdy plastic buckle.
Available in 5 Colors:
Red, Blue, Black, Pink, or Purple

3 Sizes to Choose from for the Best Fit:
Small:  3/4" wide - fits neck sizes 9" to 11" - $9.95
Medium:  3/4" or 1" wide - fits neck sizes 11" to 15" - $10.95 & $11.95
Large:  1" wide - fits neck sizes 13" to 20" - $12.95
Recommended by Dog Trainers for proper control & safety.