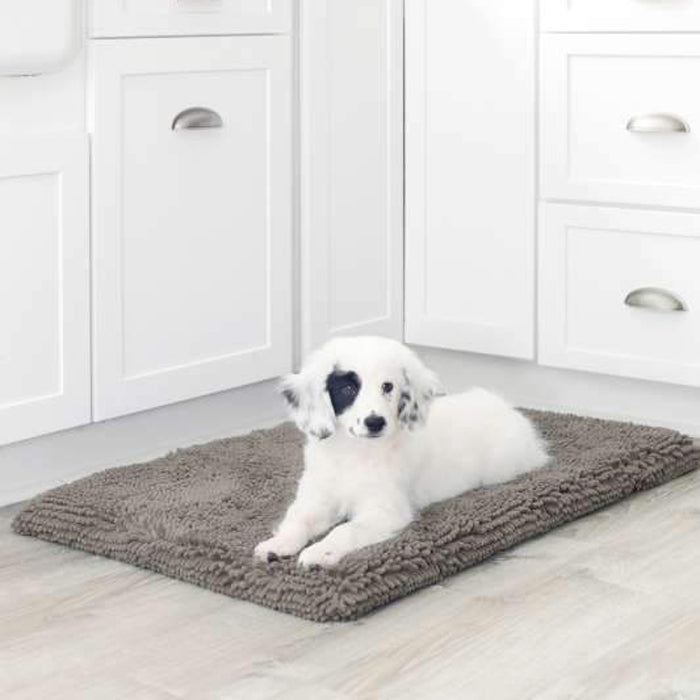 The Dirty Dog Doormat technology is now available on a Cushion Pad for your dog.  The Dirty Dog Cushion Pad takes comfort to a new level with more of what dogs already love AND has great health, cleanliness, & safety benefits you'll appreciate. This cushion pad is designed for comfort and convenience.
Antimicrobial microfiber cushion pad with a thick polysheet insert.

Removable microfiber cover with water resistant liner.

Top layer is made from super absorbent Advanced Microfiber Technology material that soaks up to 7X its weight in water & dirt.

Anti-skid bottom material helps keep cushion in place

Hidden zipper pocket helps eliminate chewing & tearing at the zipper.

Use alone or in pet crates.

Fits most standard size dog crates.

Plush & velvety soft!
Absorbent & machine washable.
Available in 2 Colors:
Brown  -or-  Grey
Available in 3 sizes
:
Small
: 19" x 24" - $38.95
Medium
: 21" x 30" - $48.95
Large
: 23" x 36" - $60.95
Advanced Microfiber Technology traps water and mud instantly!  Millions of soft microfiber strands create an extra large super-sponge.  These pads have a Grams Per Square Meter (GSM) absorption rate of 3000;  this advanced wicking power absorption rate is considerably higher than any of the competition that have GSMs in 900 to 1500 range. 
Our Product Testers & Customers rate the  Dirty Dog Cushion Pads an ALL PAWS UP.  Dogs liked the comfort and people loved the ease of use and ability to clean the mat.