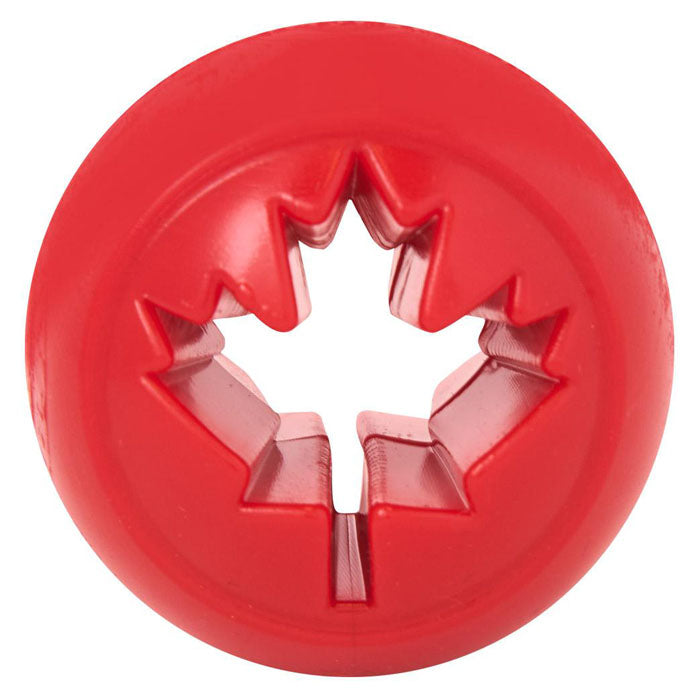 Orbee-Tuff® Nooks™ are a hole in one!  They have all the qualities you expect from Orbee-Tuff products.
The Nook features a fun maple leaf shape opening, perfect for stuffing with tiny treat bits, peanut butter, cheese, or any favorite filling.
Made with doggie-durable, Orbee-Tuff material.
Bouncy & buoyant.
Mint scented.
Perfect for tossing too!
Fits in the Orbee-Tuff Snoop®.
Rated 5 out of 5 on the durability scale.
Made in the USA

These fun boredom busters will have your dogs seeking treats in every nook & cranny or playing toss.
Orbee-tuff - is a plastic Planet Dog developed and has no latex in it. It's a thermo plastic elastomer (TPE) to be precise, but instead of using any of the chemical softeners (such as Phthalates or BPAs) used in vinyl and other plastics they use White Olefinic oil to soften, which is very much like Baby oil and completely safe.  Planet Dog also adds a small amount of essential Peppermint oil.  Their toys have been tested and shown to be non-toxic many times since Orbee-tuff was introduced 10 years ago.