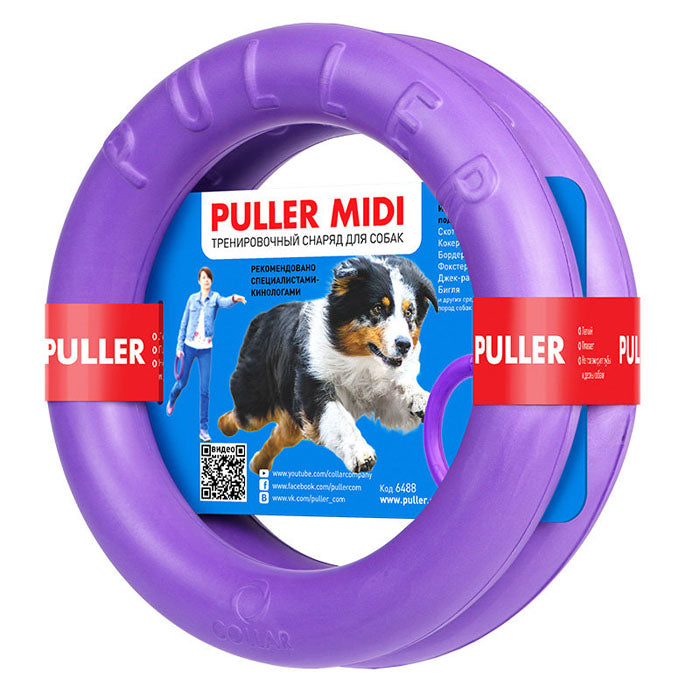 Only the Maxi Size in Stock
The PULLER is the innovative fitness tool for dogs developed by professional cynologists in Europe.   A ring that dogs love to chase, tug, toss, and play with in water.  The set of two purple rings that provides daily active training and also an opportunity for you as the owner to bond with your dog.  
Puller is also a competitive sport in Europe that involves working with two rings at the same time, the dog and its owner maintain constant interaction. 
Developed for interactive play; running, jumping & pulling.

The durable, soft, lightweight material is soft enough that the dog can bite it, but it's also sufficiently resistant to withstand biting & play.

Does not damage your dog's teeth.

Made of non-toxic and odorless material. Your dog focuses on training, not on the smell.

Just a few exercises for 20 minutes can be equivalent to the activities of 5 miles of running!
Floats on water.
2 Pullers per pack (except Maxi size).
Available in 4 sizes:
Mini:  7" in diameter and 7/8" thick - $14.95 (out of stock)
Midi:  8" in diameter and 1" thick - $19.95 (out of stock)
Standard:  11" in diameter and 2" thick - $24.95 (out of stock)
Maxi:  12" in diameter and 3" thick - $24.95
Watch video to see the Puller in action.
 Note:  We do not recommend pulling your dog with your own force, if your dog likes to pull that is good but do not yank your dog while he/she is holding the puller.