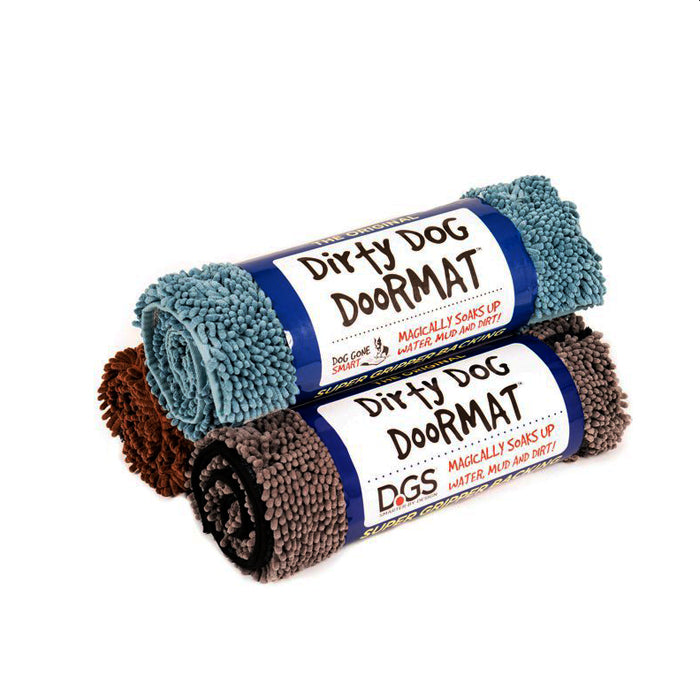 The Dirty Dog Doormat magically soaks up water, dirt, and mud so the mess stays in the mat...keeping your floors clean and dry!  Made from super absorbent material that soaks up to 7X its weight in water and mud.
Features 50% more Advanced Microfiber Technology strands per inch than the competition.
Dries 5X faster than ordinary door mats.
Plush and velvety soft, you can feel the difference.
Super Gripper Backing so it stays in place.
Machine washable.
Available in 8 Colors:
Brown,  Grey,  Pacific Blue,  Mocha Brown,  Misty Grey,  Bermuda Blue,  Petrol, & Black

Available in 3 sizes:
Medium: 31" x 20" - $28.95
Large: 35" x 26" - $38.95
Runner: 60" x 30" - $81.95
Note:  Petrol is a Deep Teal color, Pacific Blue is Light Teal, Bermuda Blue is Navy Blue.
Advanced Microfiber Technology traps water and mud instantly! Millions of soft microfiber strands create an extra large super-sponge.  These mats have a Grams Per Square Meter (GSM) absorption rate of 3000;  this advanced wicking power absorption rate is considerably higher than any of the competition that have GSMs in 900 to 1500 range. 
For use just about anywhere!  It's more than just a doormat - use them in cars, crates, garages, under food & water bowls, after bath, and more!
Our Product Testers & Customers rate this an ALL PAWS UP for keeping floors & cars clean!  Also see the Shammy & Grooming Mitt made by DGS Pet Products.  They are great to help dry your dog.