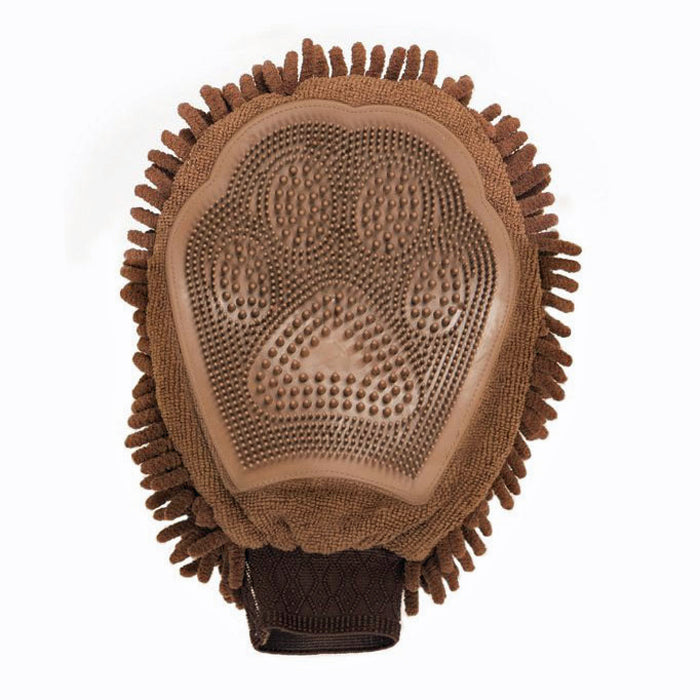 The Dirty Dog Grooming Mitt gently dries your dog and removes excess hair.  It's 2 tools in 1 super soft Mitt!  
1st  -The soft & gentle rubber side of the Mitt excels at removing excess dog hair to keep your pup clean, happy, & looking good.  It quickly untangles fur on short or long hair dogs and easily get to hard-to-reach places.
2nd - The super absorbent microfibers on the reverse side quickly dries your pet. The soft & plush fibers gently massage while cleaning for a relaxing treat your pet will love.
Made from a super soft, super absorbent, microfiber material that soaks up to 10X its weight in water.

Features 50% more Advanced Microfiber Technology strands per inch than the competition.

Fast!  Dries your pup 8X faster than an ordinary cotton towel.  It's even faster than using a hair dryer...without the uncomfortable heat.

Gentle!  The rubber nubs trap and remove excess hair without pulling, on short or long-haired dogs.  Great for hard-to-reach areas.

Ideal for use with cats too!

Machine washable.
Available in 2 Colors:
Brown  -or-  Grey
A must have tool to help with bathing or drying your dog or cat!
Advanced Microfiber Technology traps water and mud instantly!  Millions of soft microfiber strands create an extra large super-sponge.  These pads have a Grams Per Square Meter (GSM) absorption rate of 3000;  this advanced wicking power absorption rate is considerably higher than any of the competition that have GSMs in 900 to 1500 range. 
Our Product Testers & Customers rate the  Dirty Dog Grooming Mitt an ALL PAWS UP to help while bathing & drying their pets.