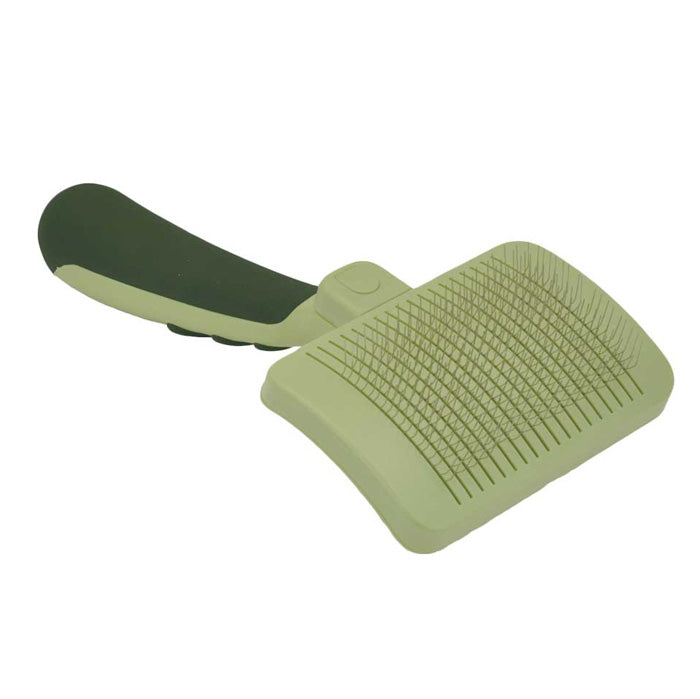 New!  Grooming your dog has never been easier!  With its retractable pins, cleaning this brush is as simple as pushing a button.  Featuring stainless steel pins that retract for easy clean up.  The brush gently and effectively removes mats, tangles and loose hair.  With regular use, these high-quality, self-cleaning slicker brushes also reduce shedding for a healthy coat and home. The non-slip grip makes grooming easy. 
Retractable pins make cleaning this brush is as simple as pushing a button.

Gentle, stainless steel pins will ensure that your pup gets well brushed without irritating skin.
Comfort grip handle is made for your comfort & ensures a sturdy grip which provides amazing grooming results.

Pin design ensures thorough grooming with minimal effort.

Works on all coat types.

Ideal for everyday use.
Available in 3 Sizes:
Small:  3.5" wide x 2" high - $11.95
Medium:  4" wide x 2.5" high - $12.95
Large:  4.5" wide x 3.5" high - $13.95
Regular grooming of your dog's coat will keep it clean and healthy.  Plus time spent grooming increases the bond between you and your dog.....but don't forget to give your dog a tasty treat as a reward when you're all done!