Tea Tree Oil Hot Spot & Itch Relief Spritz
Earthbath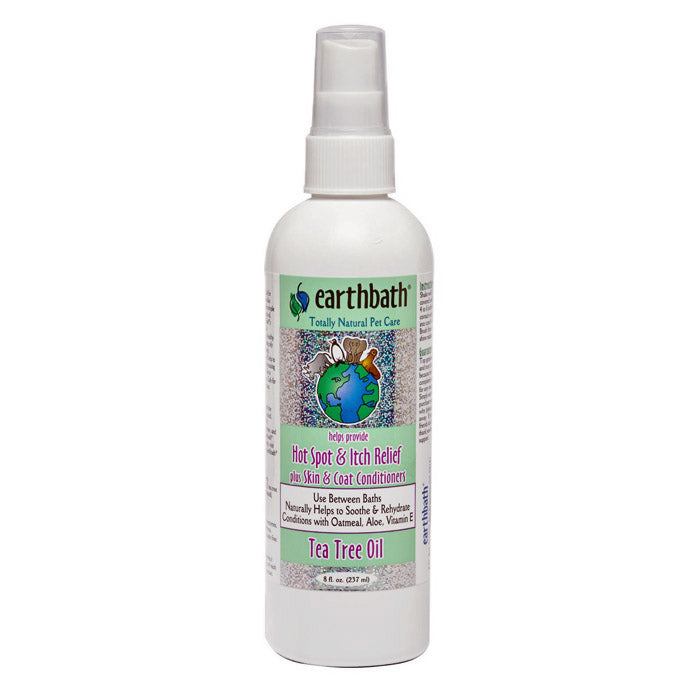 Does your dog need a soothing natural aid for relief of hot spots, itching, scratching & skin irritation? Earthbath's Tea Tree Oil Hot Spot & Itch Relief spritz is the simple solution.  Blended with soothing melaleuca oil, nature's finest hot spot ointment, colloidal oatmeal, aloe vera, & vitamin E.
Soothing itch relief.
Re-moisturizes skin & coat.
Gives coat healthy shine & softness.
No oily residue.
No parabens, artificial dyes, fragrances, or phosphates, pH balanced, 100% natural and entirely biodegradable.
Animal cruelty-free & ultra-mild.
8 ounce bottle with pump dispenser.
100% Satisfaction Guaranteed!
Made in the USA
Itch relief has never been so good!!!  Our customers love this product.
Ingredients:  De-ionized water, natural conditioners, colloidal oatmeal, aloe vera, vitamin E, tea tree oil (melaleuca).
Non-Ingredients:  Anything that would either harm you, your pet or the environment. This spritz contains no phosphates, enzymes, or synthetic dyes.