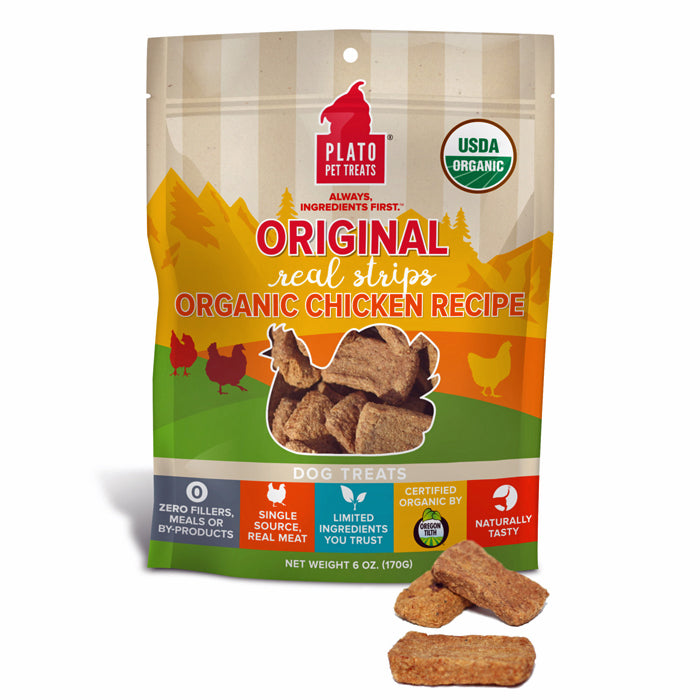 One of our most popular treats, Plato Real Strips are; soft textured, meat bars made  health, and are just the right portion size and shape for chomping.  Made with a real protein as the 1st ingredient, these treats are made with limited ingredients, are naturally preserved, and contain no artificial flavors, corn, wheat, or soy.  
Chicken, Turkey or Duck is the #1 ingredient.
All natural ingredients
Easy to break into smaller pieces.
Great for dogs of all sizes.
No artificial colors, flavors, or preservatives.
Air dried instead of baking them to retain more nutrients.
Gluten-free brown rice is the only grain.
6 oz bag.
Made in the USA
Available in 4 Flavors
:
Organic Chicken
Duck
Turkey & Cranberry - grain free
Turkey & Pumpkin - grain free
A yummy reward for your best friend!
Ingredients & Nutritional Information:
Organic Chicken - Organic Chicken, organic brown rice, organic pea fiber, salt, mixed tocopherols (preservative), organic apple cider vinegar, citric acid (preservative).
33 k/cal per treat
Crude Protein: 35% Min  Crude Fat: 27% Min  Crude Fiber: 1% Max  Moisture: 15% Max 

Duck - Duck, brown rice, brewers dried yeast, salt, organic coconut oil, mixed tocopherols (a preservative), organic apple cider vinegar, citric acid (preservative), rosemary extract.  29 k/cal per treat
Crude Protein: 35% Min  Crude Fat: 27% Min  Crude Fiber: .05% Max  Moisture: 15% Max  Zinc: 100mg/kg Min Omega 6 Fatty Acids: .1% Min  Omega 3 Fatty Acids: 2.9% Min
Turkey Pumpkin - Turkey, pumpkin, salt, mixed tocopherols (preservative), organic apple cider vinegar (preservative), citric acid (preservative), rosemary extract.  31 k/cal per treat
Crude Protein: 40% Min  Crude Fat: 27% Min  Crude Fiber: 3% Max  Moisture: 15% Max  Zinc: 100mg/kg Min Omega 6 Fatty Acids: .1% Min  Omega 3 Fatty Acids: 2.9% Min
Turkey Cranberry - Turkey, cranberry, salt, mixed tocopherols (preservative), organic apple cider vinegar, citric acid (preservative), rosemary extract.  33 k/cal per treat
Crude Protein: 40% Min  Crude Fat: 27% Mi  n  Crude Fiber: 3% Max  Moisture: 15% Max  Zinc: 100mg/kg Min Omega 6 Fatty Acids: .1% Min  Omega 3 Fatty Acids: 2.9% Min