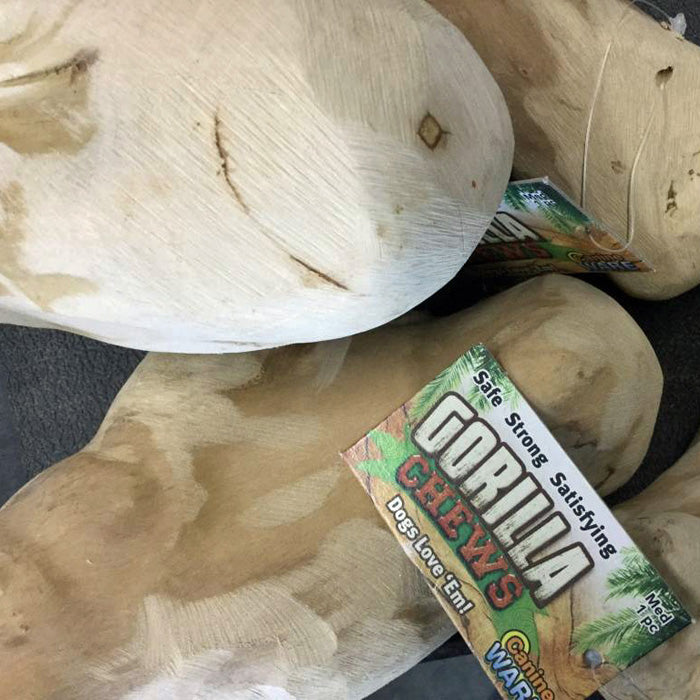 Gorilla Chews are an all natural wood chew for dogs, sustainably harvested and environmentally friendly.  A natural dense and very hard wood that makes a durable, long-lasting chew.  It also good for dental and gum care.  Does not stain or smell.
Knobby shape is easy to grip and chew.
Safe, strong, satisfying, & long lasting.
Made from 100% natural, solid Java Wood. 

Java Wood is extremely hard, durable, & naturally insect free.

Breaks down into small pieces as the dog chews, similar to sawdust.

Perfect for all breeds & ages of dogs.
Due to being an all natural product, shapes, sizes, & color vary with each chew.
Available in 4 Sizes:
Extra-Small - approx. 3" w x 3" h - $5.95
Small: - approx 4" w x 3" h - $8.95
Medium: - approx. 5" w x 4" h - $14.95 - out of stock
Large - approx. 6 w" x 5" h -  $19.95
Dogs just LOVE 'em!
The Java Tree is a natural coffee tree that is 25 to 35 years of age when the tree becomes non-productive. This responsible harvesting recycles old trees and does not hurt the environment.  In addition the necessary harvesting provides a supplementary income where previously there was none for coffee farmers.  The wood is used for bird perches, dog chews, and a variety of other purposes.  A safer alternative to chewing a tree branch that can easily splinter.  While any wood can split, Java Wood in much less likely to splinter than any other type of wood.
Harvested in Indonesia.