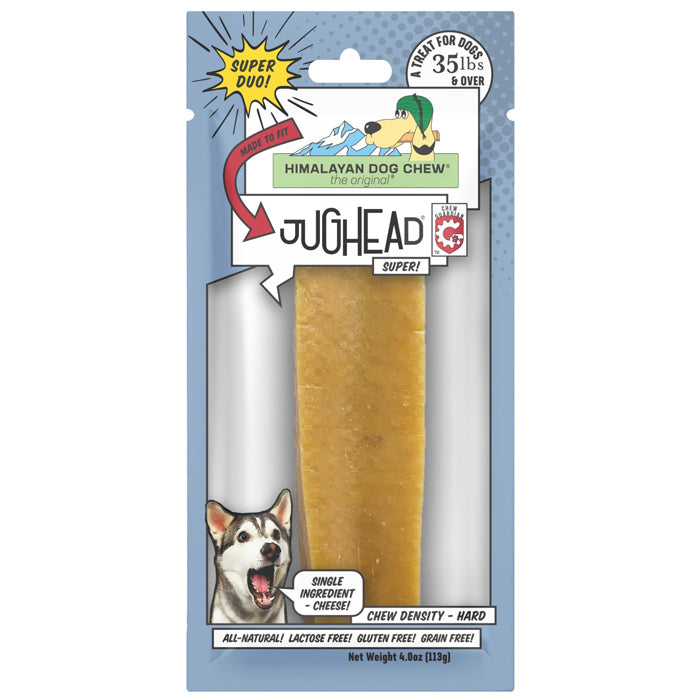 A must have for your Jughead, the Himalayan Dog Chew Insert!  The Himalayan Dog Chew Insert is a long lasting, hard smoked cheese chew.  It was designed to take the guess work out of finding the perfect chew that fits into Jughead.   When you give this treat to your dog, you know that you are providing them with high-quality eating entertainment.

Long lasting &100% natural.
Lactose, gluten, corn, soy, wheat & grain free.
No preservatives or binding agents.
Easily digestible.
Healthy alternative to rawhide.
Supports and promotes oral health.
Available in 2 sizes:
Classic - $6.99
Super - $12.49
Ingredients: Cheese (skim milk citrus juice, salt enzymes)
Guaranteed Analysis
: Crude Protein 69% min   Crude Fat 1% min   Crude Fiber 1 % max  Moisture 14% max  Ash 7% max
The best Insert for your Jughead!
When the chew becomes a small piece, take the leftover end away. Soak it in warm water for 5 minutes, heat in the microwave on high power for approx. 45 seconds to create a cheesy puffed treat. Let it cool for 2 minutes and treat your dog to a homemade puff! 
NOTE:  For dogs over 12 weeks old.  Chews will last longer if kept in a cool and dry place (do not refrigerate).  Remove treat if potential hazard presents itself.  Wash hands after handling products with dog drool.