Stars & Stripes Waterproof
Dog Collar & Leash
Cycle Dog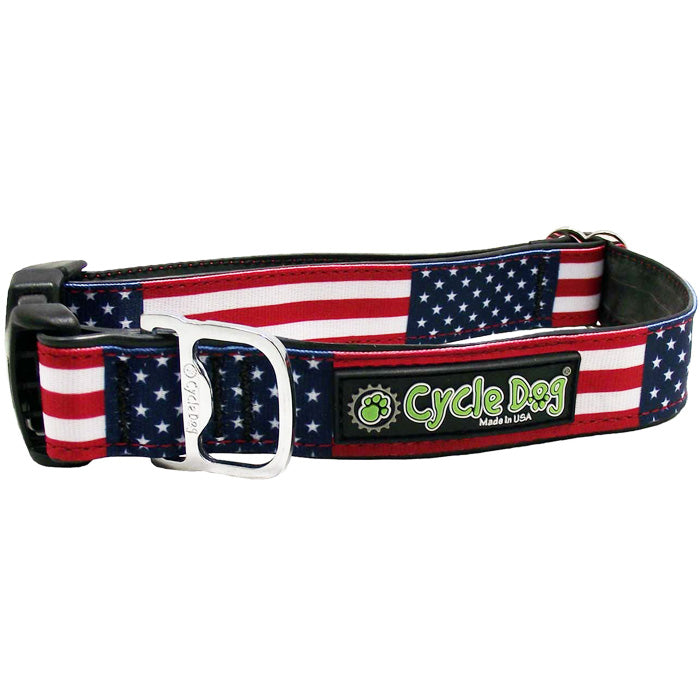 The perfect Collar & Leash collection for dogs who like to swim or are exposed to wet conditions.  The Cycle Dog Waterproof Collars are eco-friendly, made with no-stink backing from up-cycled materials.  Over 1000 times less bacterial growth than standard nylon collars means it won't get stinky, even after hours of wet play. 
Constructed with Post-Consumer Recycled Materials.
Frontside is made with Ecoweave webbing constructed from recycled plastic bottles and the Backside is lined with reclaimed rubber from bicycle inner tubes.
Collar has a highly durable plastic quick release buckle.

Pup Top Bottle Opener - the leash clip on the collar, and located on the Leash & Key Ring too.

ID Spot - hook on adjustment loop for tags & lighting to keep leash separate from tags.

Vibrant Stars & Stripes USA design.

Made in USA 
Available in 3 Products:
Dog Collar:  $22.95
     Sizes:  Medium for necks measuring: 12" to 21"
                    Large for necks measuring 17" to 27"
                    measures 1.1" wide
Leashes:  $24.95
Measures 6' long and 1.25" wide
Bottle Opener Key Ring: - $4.95
Measures 4" long & 1.25" wide
Your dog will look stylish showing his or her USA pride!