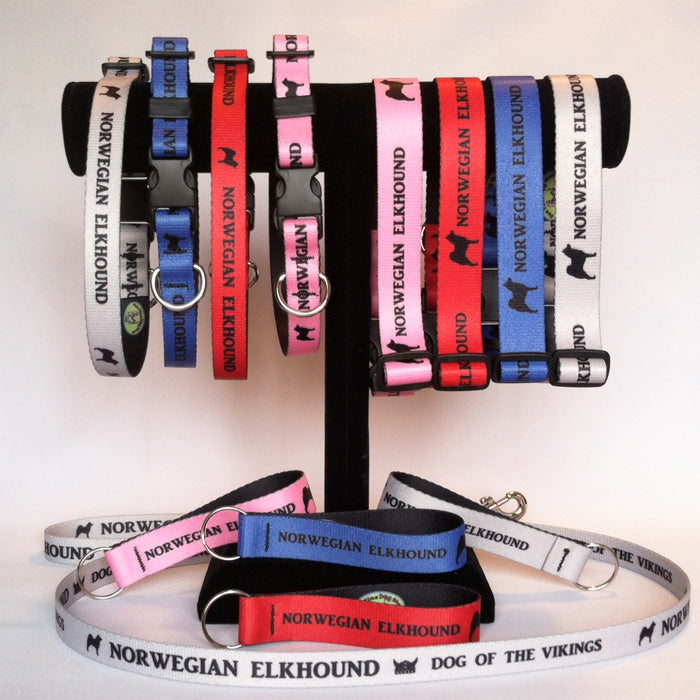 SALE - All Collars & Leashes $8.99 and Key Rings $3.99
The Norwegian Elkhound Collar & Lead Collection created exclusively by Fun Time Dog Shop as a fundraiser for JNMRF - Norwegian Elkhound Rescue to raise money for the homeless Norwegian Elkhounds they rescue.
Norwegian Elkhounds are often mistaken for other breeds of dogs.  Now you can easily show the majestic breed your great grey dog is.

Made from strong, UV resistant, dye-sublimited polyester webbing for years of wear.
High quality, durable plastic snap collar buckle.
Nickel plated D-ring and leash clasp.
Unique Elkhound Design.
Buckle Collars - $14.95
Collars display the words: Norwegian Elkhound
with an Elkhound silhouette.
Adjustable & available in the following sizes & widths:
Medium:  3/4" or 1" wide - fits neck size 11.5" to 16"
Large:  1" wide - fits neck size 12" to 21"
Leashes - $14.95
The Leashes display the words:
Norwegian Elkhound - Dog of the Vikings
with an elkhound silhouette & a viking helmet.
Available in the following lengths & widths:
4' long  & 3/4" or 1" wide
6' long  & 3/4" or 1" width
All Items Available in 4 Colors:

Blue, Red, Pink, & Gray
Made in the USA
Special Note: These buckle collars are very durable. We have sold this style of collar for over 8 years and we have never had a report of cracking or breaking.
The color and size you are seeking may not be in stock. If you are looking for an item that does not appear in the drop down menu it is out of stock.