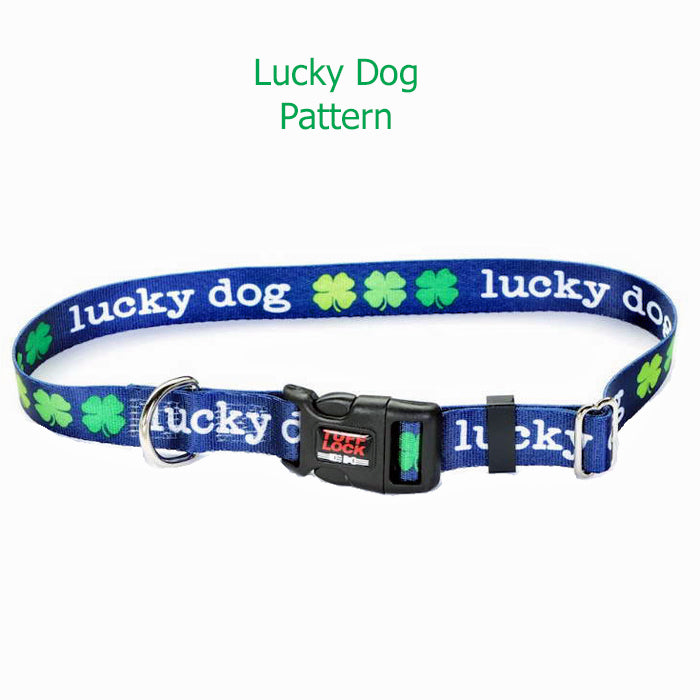 Premium Tuff-Lock products are fun, high quality collars & leashes that last and last!  Hand made in the USA with the best materials, they also offer a great assortment of pattern designs.  With contoured buckles, comfortable durable webbing & hardware they will withstand wear, weather and rough play.  Plus they are guaranteed, what more could make you smile and your dog's tail wag!
Unconditional lifetime guarantee.  Even if they are chewed in half by an overabundance of enthusiasm.

Hand sewn with tough, high quality nylon webbing. 

Solid metal hardware that will withstand wear, weather & rough play.

Exclusive TuffLock collar buckles that hold up to even the strongest dogs.
COLLARS
Made with highly durable nylon webbing, a secure with premium contoured plastic snap buckle, and a sturdy split ring to carry those all-important ID-tags.  Available in 4 adjustable sizes to fit every dog.
Size Chart:
Extra Small:  fits neck sizes 6' to 10" and have 1/2" wide webbing - $9.95
Small:  fits neck sizes 9" to 13" and have 5/8" wide webbing - $ 10.95
Medium:  fits neck sizes 12" to 18" and have 3/4" wide webbing - $11.95
Large:  fits neck size 16" to 25" and have 1" wide webbing - $12.95

LEASHES 
The high quality durable 6' leashes will keeps you in full control during walks and gives your dog the feeling of extreme comfort and safety beyond the walls of your home.  Premium Tufflock leashes/leads are available in 3 widths for any size dog.
Small - has 5/8″ webbing - $14.95
Medium - has 3/4″ webbing - $15.95
Large - has 1″ webbing - $16.95
With 12 patterns to choose from, you are sure to pick a pattern that matches your dog's personality and lifestyle!