Insect Shield T-Shirt
for Dogs in 3 colors - ON SALE!
Insect Shield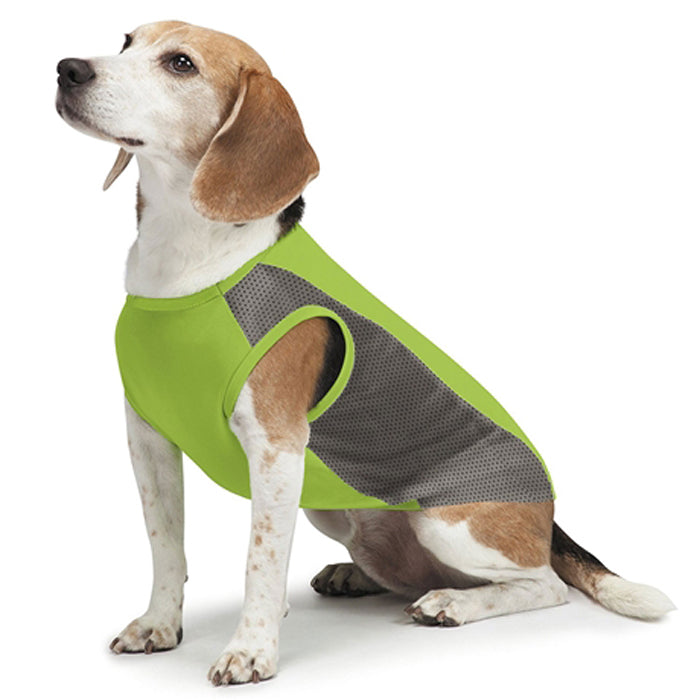 Insect Shield technology is now available for your dog!  Insect Shield for Pets offers products that provide protection from fleas, ticks & other pesky bugs that can carry dangerous illnesses such as Lyme disease & heartworm.
Originally developed to protect the US Military and Marine Corps, Insect Shield technology results from years of intensive research and field study.  Numerous studies* have confirmed the effectiveness of permethrin-treated clothing as an insect repellent.  Insect Shield's own testing methods follow United States Department of Agriculture (USDA) guidelines, and the results conclusively show that the unique, long-lasting insect protection works. 
The Insect Shield process binds a proprietary Permethrin formula tightly to fabric fibers resulting in effective, odorless insect protection that lasts the expected lifetime of apparel or 70 washings.  Permethrin has been successfully used in the United States as a U.S. Environmental Protection Agency (EPA)-registered product since 1977, with an excellent safety record. 
Insect Shield protects against a variety of insects that can carry dangerous diseases.  Repels mosquitoes, ticks, fleas, ants, flies, chiggers, and midges (no-see-ums). The technology is long-lasting, effective, and convenient.  Insect Shield uses a man-made version of a natural repellent found in certain types of chrysanthemum flowers.
Full Length T-Shirts in 2 Styles:
1. 
Grey Mesh
 - Stretchy Breathable Mesh Fabric with Fabric Sides
ALL ON SALE $19.99
XS - 10" to 12" long - $23.95
S - 14" - 16" long - $25.95
M
 - 18 to 20" long - $29.95
L
 - 22 to 24" long - $31.95
XL
- 24 - 26" long - $35.95
XXL
- 26 to 29" long - $39.95
(Size indicates length in inches from collar to tailbone.)
Note:  The shirt sizing runs on the small side. 
2.  Orange -or- Green Stretchy, Breathable, Fabric with Mesh Sides
Available in 4 sizes: ALL ON SALE -  $19.99
Small - 12" long & 16" chest - $24.95
Small/Medium - 14" long with 19" chest - $24.95
Medium - 16" long with 22" chest - $24.95 
Large - 20" with 28" chest - $24.95
Measurements:  Measure length of pet's back from the base of the neck to the base of the tail.   
Measure girth around the broadest part of the chest and add 2".

Our product testers have been very pleased with the results from wearing the shirts.
See our product Listing for Insect Shield Bandanas for dogs & people too!
Active Ingredient:  Permethrin .052%    Other Ingredients:  Garment 99.48%
* For example, in a study conducted by the U of NC,  subjects wearing Insect Shield treated clothing had a 93% reduction (p<0.0001) in the total incidence of tick bites compared to subjects using standard tick bite prevention measures.