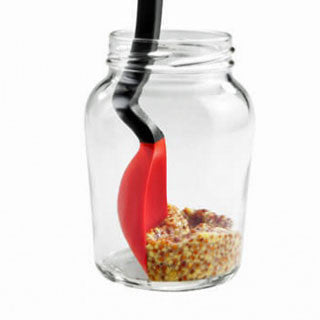 Now why would a dog supply store carry a spoon?  Because it's the best darn spoon we have ever used!  It is PERFECT for mixing your dogs food, scraping food out of cans & jars, and measuring supplements or other items you need to add to your dog's food.
Supoon Mini is also the world's best cooking spoon.  It has a flat squeegee tip and flexible scraping sides which make it awesome for scraping every last little bit out of a jar or container.  When you put it down its head sits up so it's great for serving dips and tapas too.
Unique handle design sits the Mini Supoon up so it does not touch your counter.
Excellent for scraping out every last piece of food from your can, jar or bowl with the flat silicone scraping tip and flexible spoon sides.
Measures a perfect teaspoon.
Silicone spoon is safe to use on non-stick cookware and is heat resistant to 260 C / 500 F.
Available in 5 Fun Colors
-Green   -Yellow   -Blue   -Purple  -Orange
Our customers LOVE this spoon! It is so functional, works great, and is just plain fun!! Makes a super gift too.
See the product listings for the larger size Supoon & Chopula.