SwiPets - Pet Hair Removal Glove
SwiPets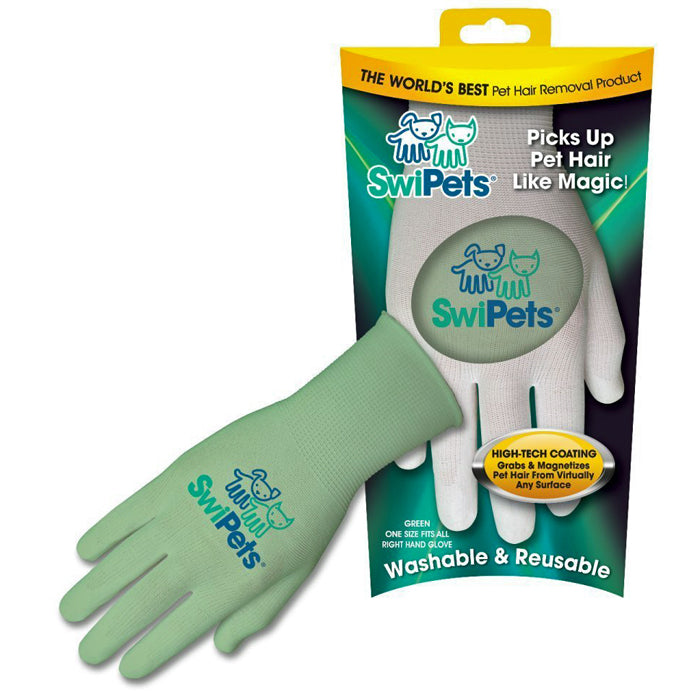 SwiPets is the perfect solution for removing pet hair from furniture, carpets, clothing...almost anything it sticks to. It works so well, you'll WOW! yourself with the ease it takes to remove your dog's & cat's hair. The SwiPets glove has a special coating and texture on the palm that creates an electro-static charge, while grabbing the pet hair and clumping it so you can simply pull it off and throw it away.
Removes pet hair from furniture, clothes, pet bedding and hard-to-reach areas like cushions, stairs & carpeting.
Special coating on the fingertips means you can get into tight spots and pull pet hair from cracks and crevices where it collects over time.
No ongoing expenses to replace sticky rollers and products that don't work.
Reduces allergens in your home by removing dirt and dander.
Works wonderfully on medium to long haired dog and cat hair.
Machine washable!
One size fits most.
Available in 3 Colors & 2 Package Sizes
:
Green Glove - single glove - $6.95
Blue Glove - single glove - $6.95
White Glove - 2 pack - $12.95
Right hand glove in Green, Blue & White
Left hand glove in white single pack only
You will be amazed how easily the SwiPets glove picks up hair around your house, in the car & on your clothes!