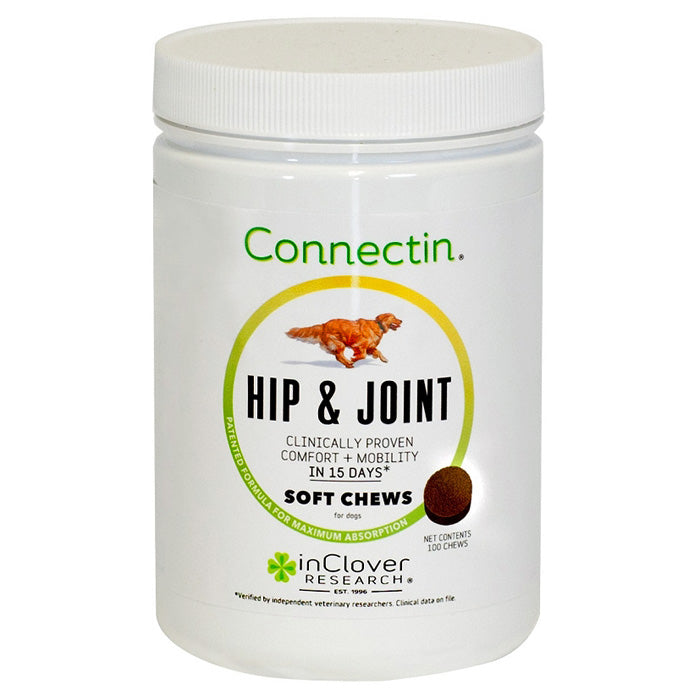 An excellent way to support stiff, aging bodies or protect young, healthy joints with is with K9 Connectin.  In Clover provides whole health solutions using only natural, human quality ingredients.  Developed by an on-staff biochemist using solid scientific research and clinical studies.

The only joint supplement clinically proven by independent researchers to improve comfort and mobility in an average of 15 days.
Connectin's complete, patented formula nourishes the joint and its surrounding structures.
Feeding K9 Connectin daily supplies the body with all three essential joint building blocks critical to healthy joint function plus a power-packed herbal blend for noticeable, lasting results.
100% Satisfaction Guarantee!
Because of the extensive research, thoughtful formulation and safety measures that go into every one of In Clover's supplements, they stand behind their products. We're so sure you'll love them that we offer a 100% satisfaction guarantee. If for any reason you're not completely satisfied with one of their products, return it for a complete refund.
All products are made in the USA using only natural, human-quality ingredients and proudly feature the National Animal Supplement Council's Quality Seal.
2 Sizes of  Canine Soft Chews
100 chews - $79.95
300 chews - $169.95

Up to 25% of dogs & cats suffer from joint problems.  Support your dog's joint comfort with Connectin.  Clinically proven to significantly increase mobility in dogs affected with joint problems and helps to maintain healthy joint function in non-affected canines.
Ingredients & Dosage Information:
Canine Soft Chews:  Ingredients (per chew):
Glucosamine HCl 99%+ pure (shellfish source) 500 mg
Mucopolysaccharides  (porcine source of chondroitin sulfate & hyaluronic acid) 250 mg
Yucca Root 135 mg   Nettle Leaf 100 mg   Alfalfa Extract 50% 85 mg
Devil's Claw Extract 2.5% 55 mg   Celery Seed 25 mg   Black Cohosh Root 25 mg
Ginger Root Extract 5% 12 mg   Turmeric Extract 95% 2.5 mg
Cayenne Pepper 2.5 mg
Inactive:  Dried honey, dried chicken liver, glycerin (vegetable source), lecithin, mixed tocopherols, potato flour, potato starch, salt, sorbic acid and safflower oil.
Suggested Daily Use:  Listed by Dog's Weight
Initial Dose for the 1st 2 to 4 months of use, then Maintenance Dose for continued daily use.
Under 20 lbs - 1/2 per day - 1/4 per day
20-40 lbs - 1 per day - 1/2 per day
40-60 lbs - 2 per day - 1 per day
60-80 lbs - 3 per day - 1 1/2 per day
80-100 lbs - 4 per day - 2 per day
100+ lbs - 5 per day - 2 1/2 per day
For nearly two decades, In Clover has been creating supplements using science and the best nature has to offer to help pets live happier, healthier, more vibrant lives.
How is Connectin different from other products that claim to be tested?
This is where patented Connectin joint supplement is very unique.  Connectin has undergone university studies at an American Veterinary Medical Association accredited veterinary hospital.  The double-blind, placebo-controlled studies used the state-of- the-art force-plate analysis, a statistically significant number of dogs participated in the trial and showed significant improvement at a 95% confidence level.  Ask these questions when looking for a tested supplement:
Were the tests done at an AVMA accredited University?
Was the complete product tested, or just one of the ingredients?
Was the trial done on the species the product is for?
Were there a significantly significant number of animals in the study?
Can Connectin be given to help maintain joint health in a pet without symptoms?
We hear this question often.  After a pet owner has seen great results when using Connectin® with their affected animal, they wonder whether it would be wise to start their younger pet on Connectin® to help maintain his or her healthy joints.  Yes, studies showed that starting your non-affected pet on a maintenance level of Connectin® will help the body maintain healthy joint function.