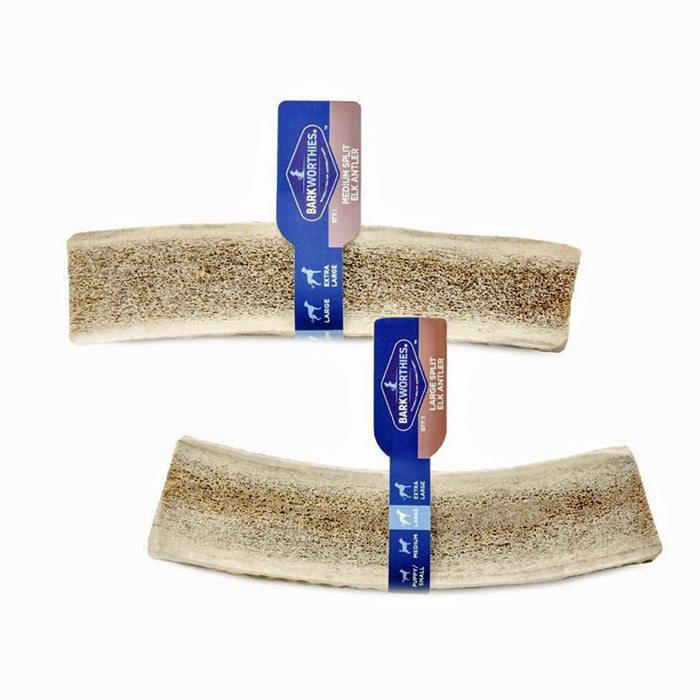 For the discerning dog, Barkworthies Elk Antlers are Grade-A, naturally shed elk antlers that are split in half lengthwise to give your dog hours of pleasure, beneficial vitamins & minerals as well as cleaner teeth!
Great for all sizes & breeds of dogs.
A durable dog chew with the center exposed for added enjoyment.
Dental benefits such as removing tartar, plaque & massaging gums.
The soft marrow contains essential nutrients such as zinc, calcium, manganese & iron that your dog needs for a healthy, long life .
100% Elk Antlers.
Additive, chemical & preservative-free chews.
Available in 3 Sizes
:
Medium
- $14.95 - 5 to 6" long
Large
- $24.95 - 7 to 8" long
Extra Large
- $34.95 - 9 to 10" long & extra wide
American-sourced, naturally-shed elk antlers come from the Rocky Mountains.
After the antlers are collected, they're washed, cut, and all sharp edges rounded to make them extra safe for your dog.
Your dog will enjoy hours of chewing fun with the 100% healthy, premium quality, Barkworthies Select Split Elk Antlers.