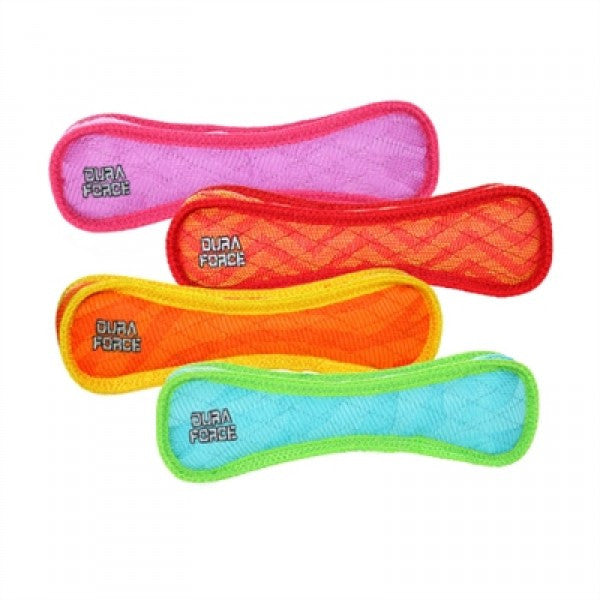 Is your dog seeking for a toy that can withstand some serious play?  Look no further, the new DuraForce Bone will provide hours of throwing and tugging fun for you and your dog!  The unique durability is created for each toy with multiple layers of flexible materials that are just as thick as many multilayered dog toys.

The outer layer material is made from plastic coated polyester fibers that are woven into a thick mat for durability.

The inner layer is polyester to make the toy even more durable.  Both layers are then cross-stitched together.  
2 squeakers enclosed in a material pouch inside for squeaky fun!
Rated 9 out of 10 on the Dura Scale.

2 Sizes:
Junior - measures  8.25" long x 3" wide x 1.25" high - $14.95
Large - measures 11.25" long x 3.5" wide x 1.75" high - $16.25
Available in 4 Fun Colors: 
Blue-Green
Orange-Yellow
Pink-Pink
Red-Red
Durability has taken on a new meaning with the DuraForce dog toys!  Be sure to see the DuraForce Boomerang & DuraForce Triangle Rings also offered at Fun Time Dog Shop.
DuraForce toys are designed to be an interactive play toy and not a chew toy.  No part of any toy should be ingested as injury may result.