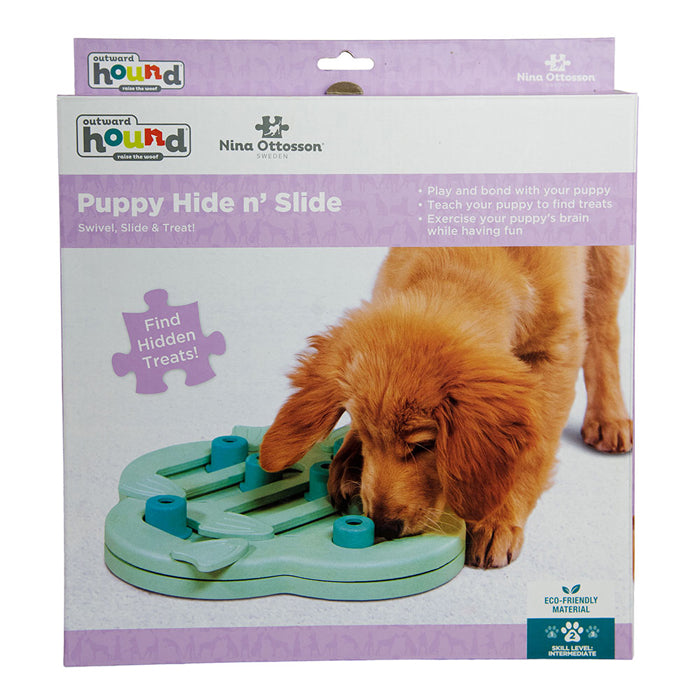 The Interctive Puppy Hide 'N Slide is a level 2 intermediate puzzle dog toy your puppy will have fun solving.  It has two types of hiding spots for snacks or kibble for a total of 14 treat compartments: under the swivelling flippers and in the hollow sliding blocks.  You can vary the difficulty level by placing treats just under the flipper for newcomers. And once your puppy gets the hang of it, you can increase the challenge by placing the treats in the hollow block, and watching your dog try to figure out how to slide it back and forth to release the treat into the flipper compartment.
Great for all breeds & sizes of pups and adult dogs too.
A Level 2 dog game.  

Different from Level 1 dog games, Level 2 Nina Ottosson dog games present your dog with more interesting ways to problem solve, while giving you new ways to teach and train your pup.

Has built in play pieces that don't come out when your pup plays with it.
Durable construction.
Made from food safe materials that are BPA, PVC & phthalate-free.
Easy to clean.
Measures 14.5 "L x 11.75" W x 2".
A perfect puzzle toy for your pup!  Difficult enough to be a challenge and easy enough that it's engaging and fun!
Note:  No toy is undestructable.  Train your pup not to chew on the toy by removing it after the treats have been eaten.   Do not leave with your pup while unsupervised.