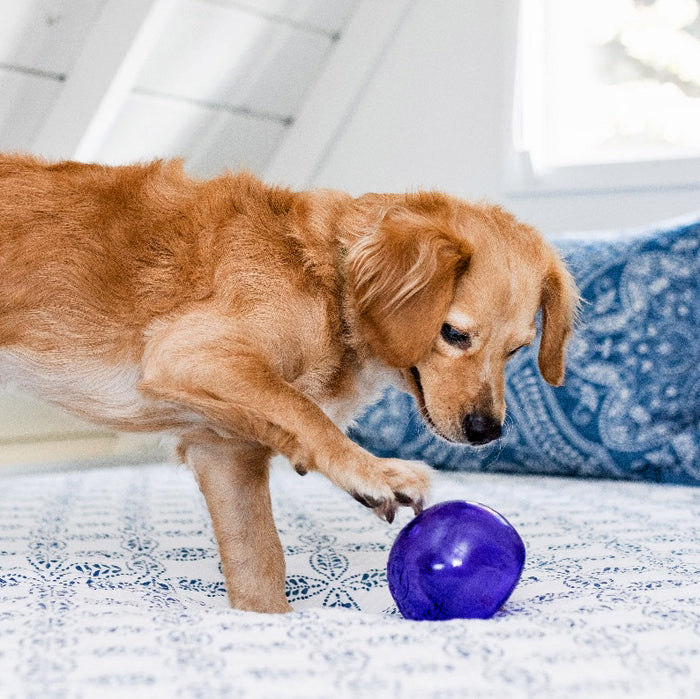 One of our favorite interactive toys, the multiple award-winning Orbee-Tuff® Snoop is now available in a smaller size for lil pups.  The Lil Snoop challenges the brain in fun and stimulating ways.  It also encourages self-play.  Snoop is translucent and squishy with a deep crevice that conceals the treasure.
Filled with treats, dogs will pounce, nudge, nose, and nibble to release the hidden reward.
This interactive puzzle toy offers hours of long-lasting, brain-stimulating entertainment.

4" in diameter.

Infused with natural mint oil.

Great for smaller size dogs.
Stuff with treats & enjoy!
Durable, Non-toxic, recyclable, & dishwasher safe.
Make the game easier or more difficult by using larger or smaller treats inside.
Made in the USA
Available in 2 Colors
:
Purple
Blue
Snoop is built for durability, it's intended for puzzle-play, not chewing.
You can also pop up the inner neck and make it a rocker toy.  Pop up the neck for cleaning.
 Orbee-tuff is a plastic developed by Planet Dog and has no latex in it.  It's a thermo plastic elastomer (TPE) to be precise, but instead of using any of the chemical softeners (such as Phthalates or BPAs) used in vinyl and other plastics Planet Dog uses White Olefinic oil to soften, which is very much like Baby oil and completely safe.  They also add a small amount of essential Peppermint oil.  Planet Dog toys have been tested and shown to be non-toxic many times since Orbee-tuff was introduced over 10 years ago.  Durable & popular with all sizes and types of dogs!