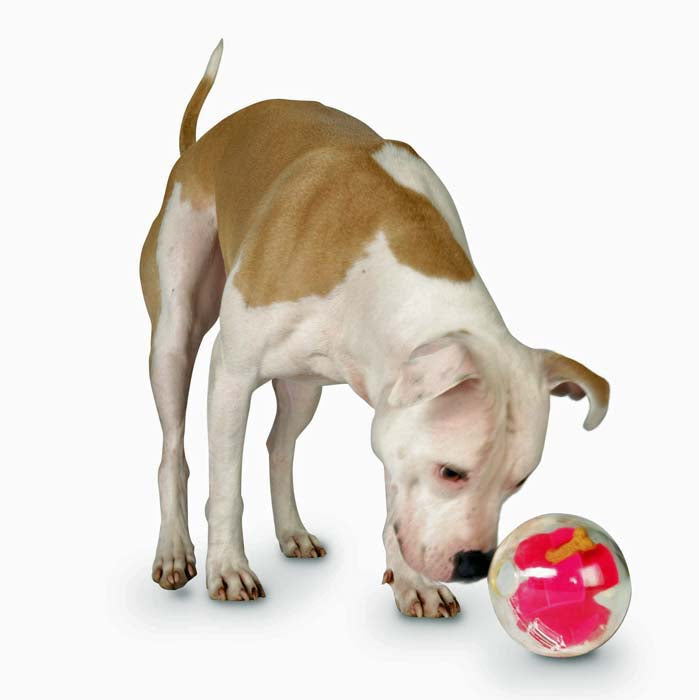 The Orbee-Tuff Mazee is engaging, rewarding, and fun!  This interactive treat dispensing dog puzzle toy is great for bored pups who need a rewarding brain teaser or to encourage slower eating habits in fast eaters.
Filled with treats, dogs will pounce, nudge, nose, and nibble to release the hidden reward.
This interactive puzzle toy offers hours of long-lasting, brain-stimulating entertainment.
5" in diameter.
Great for dogs of any size.
Made of a plastic interior maze & an outer Orbee-Tuff TPE shell.
BPA, lead, and phthalate-free.
Easy to clean.
Durable, Non-toxic, & recyclable.
100% GUARANTEED. Any time. Every time.
Made in the USA
Available in 2 Colors
:
Raspberry 
Green
The Orbee-Tuff Mazee is built for durability, it's intended for puzzle-play, not chewing.
 Orbee-tuff is a plastic developed by Planet Dog and has no latex in it.  It's a thermo plastic elastomer (TPE) to be precise, but instead of using any of the chemical softeners (such as Phthalates or BPAs) used in vinyl and other plastics Planet Dog uses White Olefinic oil to soften, which is very much like Baby oil and completely safe.  They also add a small amount of essential Peppermint oil.  Planet Dog toys have been tested and shown to be non-toxic many times since Orbee-tuff was introduced over 10 years ago.  Durable & popular with all sizes and types of dogs!