BioBrilliant - Dental Health Supplement - for dogs & Cats
In Clover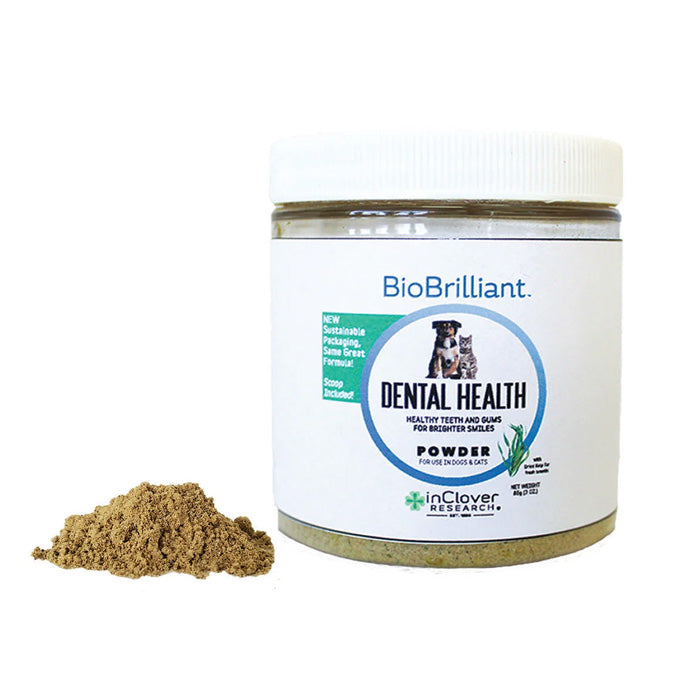 BioBrilliant is a clinically tested, natural alternative to tooth brushing that is enjoyable for animals and their humans.  Tests show the kelp in BioBrilliant has higher levels of important nutrients compared to other products.  BioBrilliant has also undergone PCR and RDA abrasivity testing to ensure the animal's naturally thin enamel layer is supported. 
No artificial colors, flavors or preservatives.
3 oz container - shake on powder.
Made in the USA.
FEATURED INGREDIENTS
Goat Cheese - Goat cheese provides gentle remineralization of the tooth resulting in a healthy enamel layer, and increases saliva production to flush away bacteria before they stick to teeth. Goat cheese is a healthier alternative to cow cheese with less lactose, less sodium, increased digestibility and no starch.
Kelp - Kelp works to prevent the plaque from forming and adhering to the tooth by inhibiting the sticking process. Additionally, kelp makes plaque and tartar more porous so that they can be easily removed.
Enzymes - A natural enzyme blend works to target multiple areas, breaking down starch and protein in the food that can stick to the teeth and feed bacteria and to degrade glucose and sugars in the mouth to natural tooth whiteners hydrogen peroxide and gluconic acid.
Directions for use:  Sprinkle powder over dry food or mix into moist food.  For dogs:  Serve 1 tsp. per day (about 2 "shakes") for a 30 pound dog (adjust proportionally to size of dog). For cats: Serve 1/3 tsp. per day for a 10 pound cat.
Ingredients:   Goat milk dried whey, coconut, yucca schidigera, dried kelp, green tea, anise, inulin, papain, dried Aspergillus oryzae fermentation solubles, dried Aspergillus niger fermentation solubles, calcium bentonite.
Using the highest quality goat milk whey to re-mineralize the enamel.   This begins with goats that are pastured on chemical-free and naturally enriched fields.  Keeping the microbiome of the soil healthy translates to healthy milk. Twice daily their milk is harvested and goes through a natural lactofermentation process to separate the whey.  The slow drying of the whey optimizes the bioavailability of minerals and nutrients in BioBrilliant.   The kelp is ocean farmed, harvested and slow dried the same day to keep the nutrients bioavailable in the final product.
All In Clover products are made in the USA using only natural, human-quality ingredients and proudly feature the National Animal Supplement Council's Quality Seal.