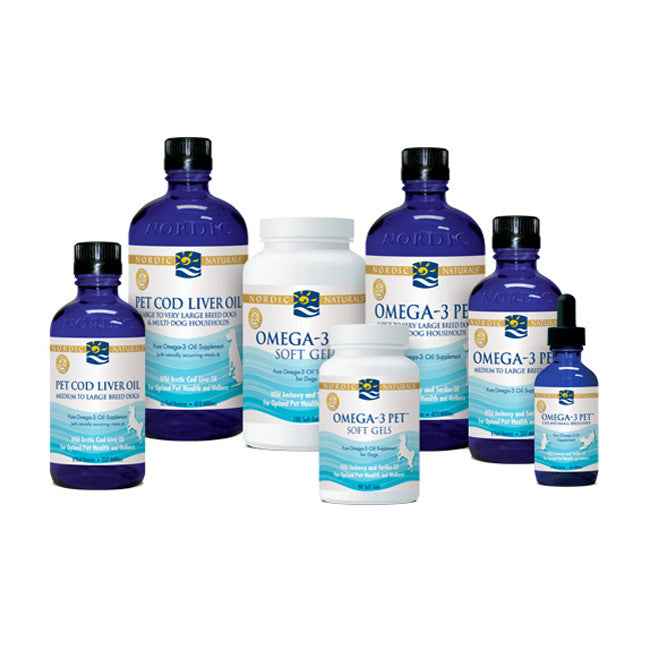 If you are seeking the highest quality Omega-3 supplement for your dog or cat, this is the solution.  Nordic Naturals Nordic Pet Pure Omega-3 Collection is an excellent source of the omega-3 fatty acids EPA and DHA.  It is an important supplement to help support optimal pet health.  This product is offered in convenient soft gelatin capsules or liquid.

Omega-3 fatty acids EPA and DHA are important fatty acids for dogs and cats because they cannot be made in the body.  The only source of EPA and DHA for these species is through the diet and/or supplementation.  Daily supplementation helps support optimal health for your pet.
EPA and DHA are necessary structural components of cell membranes.  These omega-3 fatty acids maintain the cell membrane fluidity and permeability needed for healthy, functioning cells.  The omega-3 fatty acids (EPA and DHA) found in fish oil support:
* Cellular health
* Immune system health
* Skin and coat health
* Joint health
* Heart health
* Brain development and maintenance
* Eye development and maintenance
Available in 2 Formulas
:
Omega-3 Pet (liquid)
  -   in 2 sizes
- 8 oz/237 ml for medium to large breed dogs - $23.95
- 16 oz/473 ml for large to XL breed dogs & multi-dog households - $37.95
Omega-3 Pet - Soft Gels  -  (for dogs only) in 2 sizes
* 90 count - $19.95
* 180 count - $36.95
Nordic Naturals uses only wild-caught, sustainably-sourced fish:
Pacific Sardines & Peruvian Anchovies sourced from the South Pacific Ocean, off the coast of Peru.  A 2008 research report ranked the sustainability of the Peruvian fishery as the best in the world.
Why choose Nordic Naturals?
* Unsurpassed Quality - surpassing international standards & are 3rd party tested.
* Unparalleled Freshness - 100% oxygen-free manufacturing.
* Exceptional Purity - proprietary distillation process purifies oils without chemicals or heat.
* Sustainable Sourcing - 100% of fish caught & sourced in accordance with Norwegian fisheries mgmt system, a model of sustainability for 30+ years.
* Triclyceride Form - to ensure optimal absorption.
* Responsible Product Formulations & Feeding Instructions - Board-certified veterinary nutritionists ensure appropriate ingredients, amounts & instructions.
Need we say more, this is all hands & paws down the best Pure Omega-3 product available in the marketplace for your dogs & cats!
Ingredient & Dosage Information:
Ingredients: Fish Oil (Wild Anchovy and Sardine), D-Alpha Tocopherol (a preservative). No artificial colors or flavors.
Feeding Directions for Omega-3 Pet - Liquid:
Suggested daily use for cats 2 to over 20 lbs:
2 to 4 lbs: 0.25 mL (35 mg EPA/21 mg DHA)
5 to 9 lbs: 0.5 mL (69 mg EPA/41 mg DHA)
10 to14 lbs: 0.75 mL (104 mg EPA/62 mg DHA)
15 to 20 lbs: 1.0 mL (138 mg EPA/83 mg DHA)
over 20 lbs: 1.25 mL (173 mg EPA/104 mg DHA
Suggested Daily use for dogs 2 to 19 lbs:
2 to 4 lbs: 0.5 mL (69 mg EPA/41 mg DHA)
5 to 9 lbs: 1.0 mL (138 mg EPA/83 mg DHA)
10 to 19 lbs: 2.0 mL (276 mg EPA/166 mg DHA)
Suggested daily use for dogs 19-79 lbs.
20-39 lbs: 0.5 teaspoon (2.5 mL) (94 servings/bottle)
345 mg EPA/207 mg DHA/713 mg total omega-3s
40-59 lbs: 1.0 teaspoon (5.0 mL) (47 servings/bottle)
690 mg EPA/414 mg DHA/1426 mg total omega-3s
60-79 lbs: 1.5 teaspoons (7.5 mL) (31 servings/bottle)
1035 mg EPA/621 mg DHA/2139 mg total omega-3s
Suggested daily use for dogs over 80 lbs:
80-99 lbs: 2.0 teaspoon (10 mL) (47 servings/bottle)
1380 mg EPA/828 mg DHA/2852 mg total omega-3s
100+ lbs: 3.0 teaspoon (15 mL) (31 servings/bottle)
2070 mg EPA/1242 mg DHA/4278 mg total omega-3s
Apply oil onto food, or serve by itself.
Feeding Directions for Omega-3 Pet - Soft Gels:
1 soft gel = 1500 mg / 1 soft gel contains 1000 mg fish oil
Use one soft gel for every 20 lbs. of body weight.
1 soft gel contains 150 mg EPA / 90 mg
DHA / 310 mg total omega-3 fatty acids.
For Larger dogs: Add soft gel to food.
Smaller dogs: Puncture soft gel, and apply oil directly onto food, or serve by itself.
 Do not exceed the suggested daily use without consulting your veterinarian.
Attention:
-Consult your veterinarian if your pet has a chronic illness or is on any medication before using this product.
-Inform your veterinarian that your pet is receiving this product before any anticipated surgery.
Consult your veterinarian in cases of accidental ingestion.
Keep out of the reach of children and pets.
Storage:
Store in a cool, dry place, away from sunlight.  Store bottle with original cap in refrigerator once opened  -  REFRIGERATE AFTER OPENING