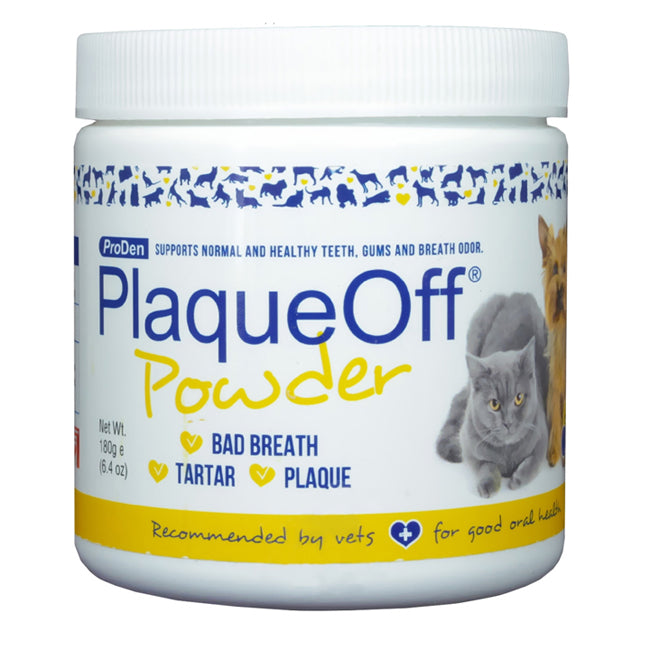 ProDen PlaqueOff is a revolutionary pet dental product made from all natural ingredients and when used daily, can significantly reduce dental plaque & tarter and improve breath.  As in humans, plaque bacteria constantly forms in the mouth of all cats and dogs.  Once plaque has calcified into tartar it can no longer be brushed off with a toothbrush.  In many cases it has to be removed by a vet, using ultrasound and anesthetic.
Working systemically through the blood stream, it naturally affects the ability of plaque to "stick" to surfaces of the mouth & softens hard tarter deposits.  By softening existing tarter it makes it easier to remove plaque with a toothbrush, chews, biscuits, or scraped off with a finger nail.
Simply add the supplemental powder in the specified dosage to your pet's food.  Reduces bad breath by up to 63% after 12 weeks and reduces plaque by up to 35% after the first 8 weeks. 
Combats bad breath, tarter & plaque.
Contains only specially selected seaweed, D1070, harvested from Norwegian clean oceans, with specific dental health benefits.
Free from artificial colors, preservatives, gluten & sugar free.
Rich in natural iodine.
See results in 3 to 8 weeks.
Available in 3 Sizes:
60 gram Bottle - $19.95
180 gram Tub - $44.95
420 gram Tub - $79.95- out of stock
Made in Sweden
Daily Dosage:
Small dogs - up to 25 lbs. - 1/2 to 1 scoop
Medium dogs - 25 to 50 lbs. - 1 to 2 scoops
Large dogs - 50 lbs + - 2 to 3 scoops
One 60 gram bottle will last up to 12 months for a small dog and 3 months for a large dog.
Ingredients:  Dried Seaweed Meal (North Atlantic alga Ascophyllum nodosum)
Note:  There are no known side effects, however due to the rich iodine content of seaweed, this product is not recommended for animals undergoing treatment for hyperthyroidism.