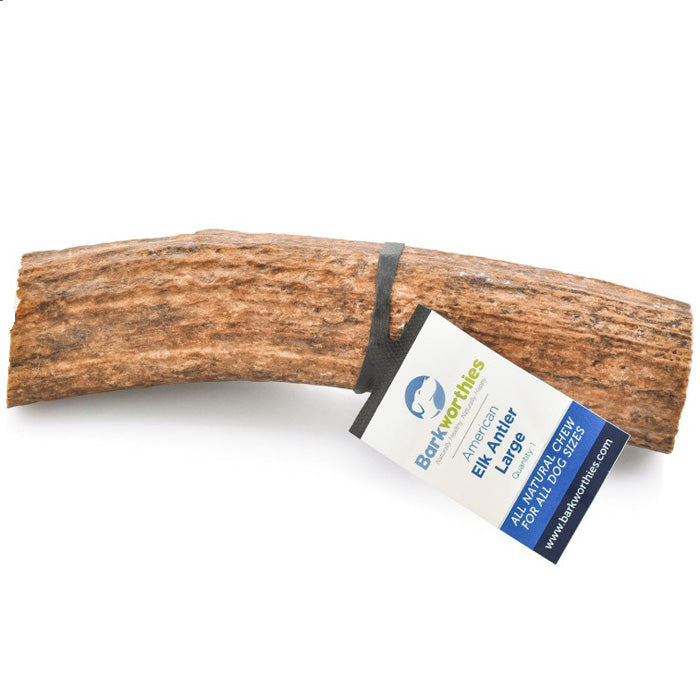 Barkworthies Elk Antlers are Grade-A, durable dog chews that will give your dog hours of chew time, beneficial vitamins & minerals, as well as cleaner teeth!  These high quality, naturally-shed elk antlers are American-sourced in the Rocky Mountains.  Filled with soft marrow, they contain essential nutrients your dog needs for a healthy, long life such as zinc, calcium, manganese and iron.
Great for all sizes & breeds of dogs.
A highly-durable & long-lasting dog chew.
Dental benefits such as removing tartar, plaque & massaging gums.
Additive, chemical & preservative-free chews.
Full of essential vitamins & minerals.
Sourced from naturally shed elk antlers in the USA.
100% Elk Antlers
After they're collected, they are washed, cut & packaged and sharp edges are rounded to make them extra safe for your dog.
Available in 2 Sizes
:
Medium
- $19.95 - 5 to 6" long
Large
- $26.95 - 7 to 8" long
Your dog will enjoy hours & hours of chewing fun with the Barkworthies 100% healthy Elk Antler.