Fido Naturals Super Breath Dental Bones
Pet Action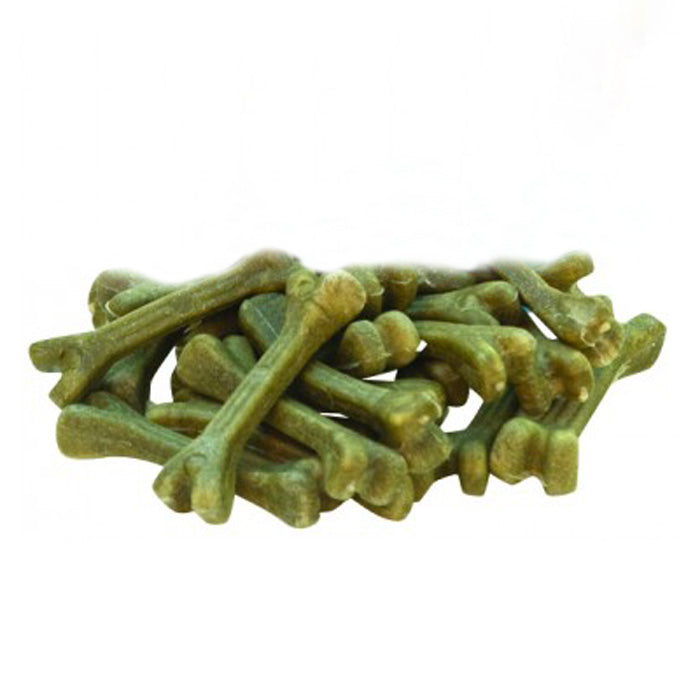 Fido Naturals Super Breath Bone is a complete dental care bone for your dog. These bones are pressure molded not baked.  They taste great, are healthy, and safely digest, unlike rawhide that have a risk of blockage.
* Unique design and chewy texture cleans dogs' teeth as they chew & helps freshen breath.
*Made with sea vegetables (kelp) that have real health advantages to reduce plaque & tartar.
* Sea vegetable acts as a building block for the enzymes which naturally fight the plaque found on dog's teeth.
* Enzymatic action is maximized when a dog is fed naturals once a day. Total treatment for white teeth and fresh breath is approximately 6 weeks.
* Eliminates bad breath problems.
Available in 2 Sizes:
Small - 3.75" long
Large - 5.37" long
2 Quantities to Choose From:
Single Bones:
Small - $ .99
Large - $2.49
Multipacks:
Small - 12 Bones - $8.99
Large - 4 Bones - $8.99
Please always supervise your pets so they do not gulp our treats without chewing them first.  Proper size of treats is recommended based on the size of your dog.
Made in the USA with USA ingredients
Your Dog will LOVE them!!
Ingredients
Potato starch, brown rice flour, glycerin, potato flour, amaranth flour, rice bran, carrageenan, sea kelp, brewers yeast, canola oil, flax oil, parsley, natural flavor, fructoolligosaccharide, rosemary extract, magnesium strearate, chlorophyll.
Allergy Information: This product is produced in a facility containing peanut products, may contain peanuts.
 Also available, Fido Belly Bones with Probiotics - see product listing for more details.