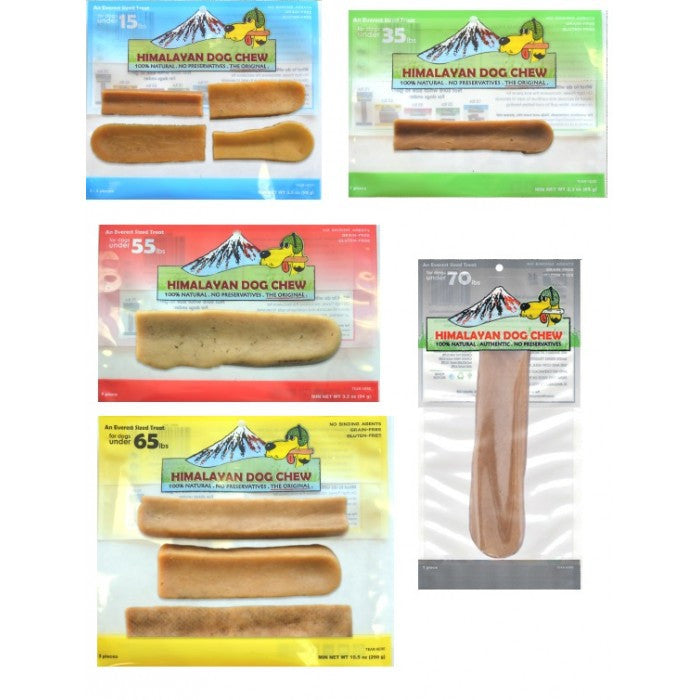 The Himalayan Dog Chew is a remarkable & unique dog chew to made from Fat Free Yak & Cow Milk.  The chew comes from an ancient Himalayan recipe used by the locals to create a long-lasting snack that they can slowly work in their mouths while they work in the fields.  In 2007 the Himalayan Dog Chew was developed in Bellingham, WA based on this ancient recipe.
A very hard chew that dogs chew the end of for long periods of time, softening it with their mouths before small parts of it can be slowly scraped off.
Made from Fat Free Yak & Cow Milk from grass fed cows that are fed only fresh vegetation.
Treated with Lime Juice & Salt then rinsed.
Baked under the sun & smoked for 2-3 months.
Long lasting!
Available in 5 Sizes:
Small  -  3.5 oz - with 3 or 4 pieces - $8.95
Medium  -  2.5 oz - $6.95
Large  -  3.5 oz -$8.95
Extra Large  -  6 oz - $15.95
Mixed Pack of 3  -  11.5 oz - $26.95
2 Flavors to Choose From
:
Classic Cheese
Chicken
Feeding Guidelines:
The Himalayan Dog Chews vary in length, width & depth slightly due to the natural process. In general they measure:
Small - for dogs under 15 lbs.  -  3" long and 1/2" wide   -  435 calories per pack
Medium - for dogs under 35 lbs. -  5" long & 3/4" wide - 309 calories
Large -  for dogs under 55 lbs - 6" long & 1" wide  -  435 calories
Extra Large - for under 80 lbs. -  6" long and 1.5" wide  -  740 calories
The thickness increases as the sizes get larger. The mixed pack generally has 3 large chews but they vary in size.
Made in the Himalayas, primarily in Nepal.
Fits in the Bonehead dog chew holder perfectly - see our product listing for this smart accessory for Himalayan Dog Chews!
NOTE:  The Cheeses flavor is not available in the Mixed Pack of 3. 
We are temporarily out of stock of size XL Classic Cheese, back in soon! 

Ingredients:
Cheese: (skim milk citrus juice, salt enzymes).
Chicken:  Chicken: Cheese (skim, milk, citrus, juice, salt enzymes) chicken, chicken powder.
Guaranteed Analysis :
Classic:   Crude Protein Min - 69%  Crude Fat Min - 1%   Crude Fiber Max  1% Ash Max - 7%   Moisture Max - 14%
Chicken:   Classic:   Crude Protein Min - 68%  Crude Fat Min - 1%   Fiber:  1% Ash Max  9%   Moisture Max - 14%
Process:
Farmers milk Cows & Yaks daily using the traditional methods without any modern devices.  They collect roughly 6 gallons of milk to make 2 pounds of Himalayan Chews.  The milk is boiled for 4-5 hours then poured into a centrifuge device to remove all the fat.  The fat is boiled to make butter and sold as a separate commodity.  The fat free milk is used to make the Himalayan chew.
Once the milk has cooled it is treated with 10 ml lime juice & 10 mg salt per 100 gallons of milk to coagulate the milk.  Solids are separated using a burlap sac, washed several times using warm water to remove the whey, hints of salt & lime.
The solids in the burlap sac are squeezed for 3 weeks until the cake is formed with a maximum moisture of 5%.  The cake is cut to size then cooked under the sun & smoke for 2 to 3 months.  The chews are collected from the farmers, brought to the Himalayan Corporation warehouse in Kathmandu and sorted for quality.  The best 10-15% are retained and shipped to the USA and remaining are sold at the local market for human consumption & other purposes.  The chews are further cleaned using a buffing machine & lime juice then cut to size and packaged in the facility in Washington State.
Safety:  Third party analysis & tests are conducted by Washington State University, Oklahoma State University, Edge Laboratories and Midwest Laboratories. For more information go to: www.himalayandogchew.com .
A long lasting chew your dog will love!