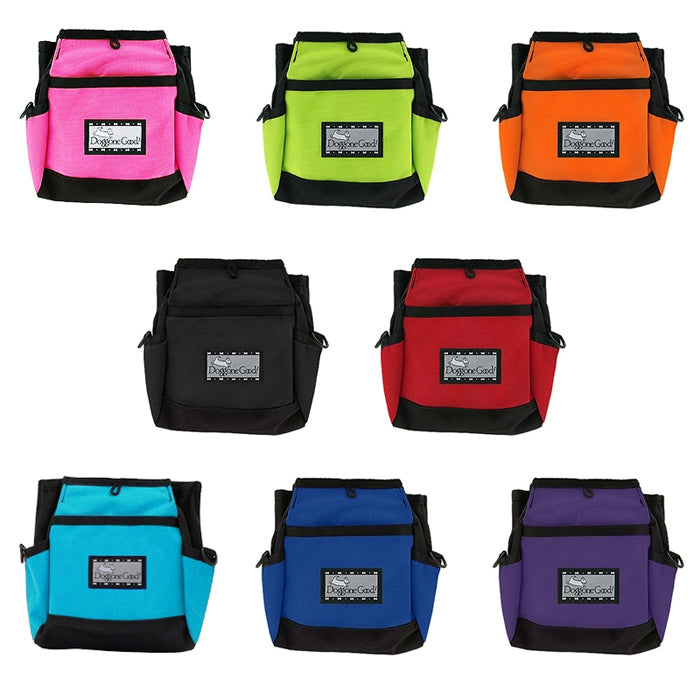 The Rapid Rewards Training Pouch is a very functional and deluxe bait pouch for carrying treats and essentials for you & your dog.  Designed with the serious dog trainer/handler in mind who want a larger bag or appreciate lots of features.  
Magnetic closure with cord pull for quick open/close operation
Roomy main compartment, ergonomically shaped, with gray interior lining for better visibility
Inside jackpot pocket with velcro closure to store high value treats or separate any item you want in the main pocket
Two side pockets with a waste-bag dispenser feature (one side only), fits clickers, small leads and more
Zippered back compartment is roomy enough for cell phones, keys, credit cards and more
Belt clip and belt loops allow you to choose multiple ways to wear your pouch
D-ring attachments let you attach gear with carabiners, snaps and more
Roomy front pocket with velcro closure
Made of durable 600 denier polyester ("backpack") material

Machine washable, line dry.
Available in 6 Colors:
Colors:  Red, Blue, Orange, Pink , Purple, & Turquoise - $19.95
The perfect pouch to carry treats & essentials so your hands can be free for playing with your dog!
Note:  Out of stock of the following colors:  Green, Turquoise, & Black