NiteHowl LED Safety Necklace
in 5 colors
Nite Ize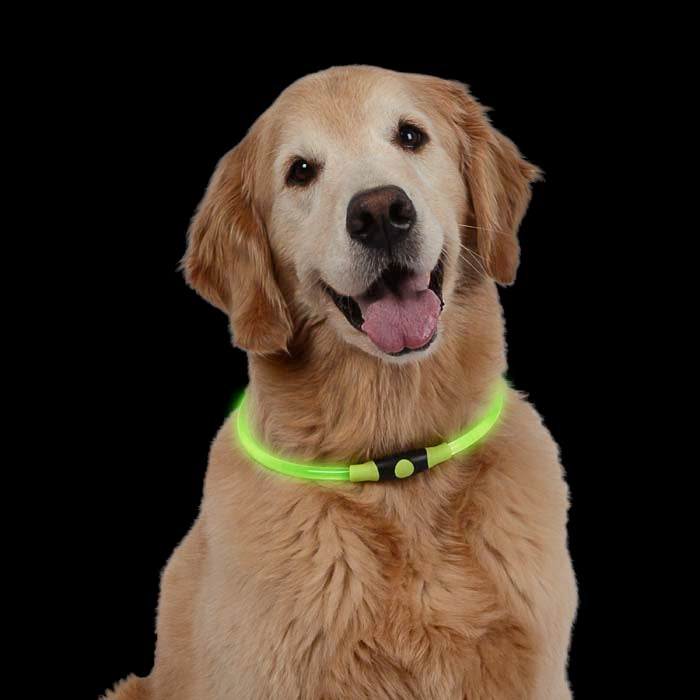 Illumination for your dog has come full circle, literally. The brilliantly durable NiteHowl LED Safety Necklace is made with a flexible polymer tube, illuminated by two bright red LEDs, that simply slides over your dog's neck for hours of nighttime fun & safety.
Just trim the tube to a custom fit, give the button on the durable, weather resistant housing a quick press, and the entire collar lights up a full 360 degrees, making your dog clearly visible from all angles.
Two Bright LEDs in each collar.
Easily slides over your dog's neck as a bright LED addition to an existing collar.
Universal sizing, easily cut to fit from 12"- 27".
Flash or Glow Modes with 360 degree illumination.
Battery Life: 60 hours.
Comes with 1154 3V Replaceable Alkaline Batteries.
Weather Resistant.
Dimensions: adjustable length 12" - 27" x .3" diameter.
$11.95 each.
Available in 5 Colors
:
Red
Blue
Orange
Green
Pink
As fun as it is (like a neon necklace for dogs!), the best thing about the NiteHowl is that it keeps you and your pup seriously safe on those after-hours walks, romps in the park, and campsite moon-howling sessions.