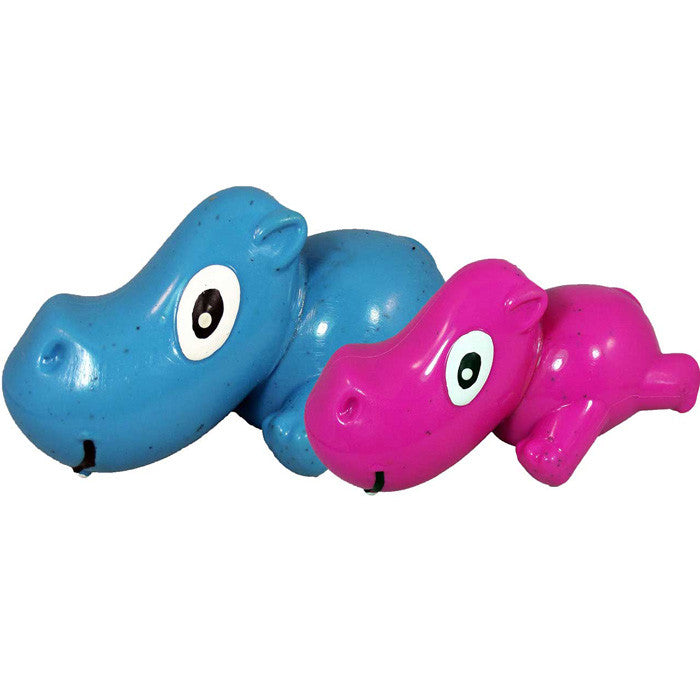 Your dog will have a great time playing with this new pal who is 3 play toys in 1, that means 3 x the fun!  The hip Hippo, floats, squeaks and is a treat dispenser too.
Features:
Busy Belly - a brain twisting Treat Hider in the belly that's great for engaging your dog's mind to work at getting the treats or snacks you insert.

SuperFloat Water Toy – Hippo loves to swim & floats above the water surface.

ToughSqueak Internal Squeaker - High durability squeaker inside the Hippo's head.
Constructed with Ecolast - a highly durable post-Consumer recycled material that is tough & non-toxic.
Available in 2 Sizes and Colors:
Standard Size -  measures 7″ x 4″ x 4" - Blue or Pink - $14.95 
Mini Size - measures 4″ x 3″ x 3″ - Blue or Pink - $9.95
Your dog will have hours of fun playing with the hip Hippo, the tough, fun & environmentally friendly toy!
Cycle Dog's Ecolast rubber toys are a blend of high durability rubber and post-consumer recycled rubber from bicycle inner tubes.  The reclaimed tubes are a great material because they dry quickly and resist bacteria growth. Cycle Dog saves over 100,000 tubes from ending up in landfills each year.  That is enough to completely fill four 40-foot tractor trailers!