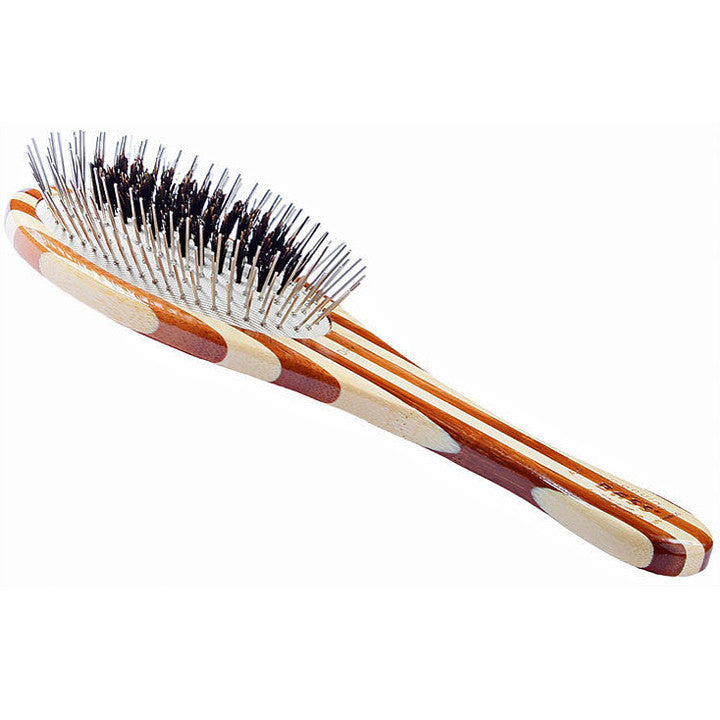 The Bass Fusion Groomer is the world's first design to fuse a natural bristle with alloy pin to create the most effective grooming brush on the market. Made with an innovating earth-friendly Bamboo wood handle and 100% wild boar natural bristles and alloy pin. Detangles and shines at the same time.
One Brush, Three Actions:
1st - Outer layer of Alloy Pins gently detangles the coat, removes larger particles, separates the hair & provides a gentle massaging effect.
2nd -  The middle layer of pure Boar bristles smmoths and polishes the hair by distributing natural oils, leaving a healthy shine & protective layer over your pet's coat.
3rd - The outer layer of Alloy pins passes through the hair again to smooth & separate the conditioned hair for an evenly set finish.
Available in 4 Sizes:
A1 - Medium Oval - 3" wide x 9 " long - $19.95 - out of stock
A3 - Large Oval - 4" wide x 10" long - $22.95
A13 - Small Oval - 2.5" wide x 7.5" long - $15.95
A comfortable brushing experience for your pet & pleasing for you to use. Ideal for use on dogs, cats, & horses. We have received rave reviews from our customers about how much their pet loved being groomed with these brushes!