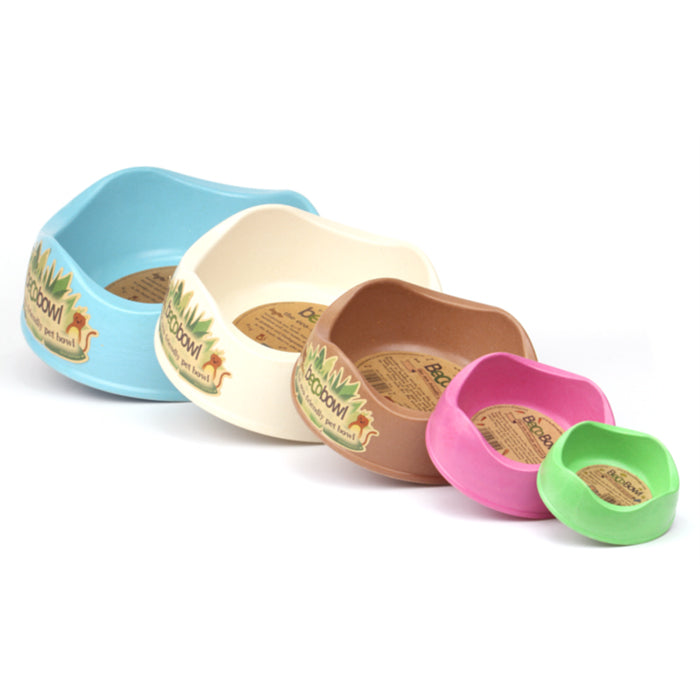 A fun, attractive, and earth friendy bowl for your dogs, cats and other pets!  Sustainably made from bamboo, these food and water bowls will last for years in your home.  Once disposed of, they naturally break down. unlike plastic or other materials.  Natural food dyes are used to create the fun variety of bright colors.
Constructed from natural bamboo, cornstarch & rice husks.

Dogcentric design - see below.

BPA free.

Tough & durable, made to last.

Dishwasher friendly.

Last for years in the home.
Available in 5 Fun Colors:
Blue, Natural, Green, Pink, -or- Brown

5 Sizes:
XXS - 3.3" diameter - holds 7 oz/0.1L - $4.95
XS - 4.7" diameter - holds 14 oz./.2L - $5.95
S - 6.6" diameter - holds 27 oz/.5L - $7.95
M - 8.2" diameter - holds 41 oz/.75L - $9.95
L - 10.2" diameter - holds 51 oz /1.5L- $13.95
Dogcentric Design - A design created to maximize a dogs enjoyment at dinner time. Waved edges & a balanced depth to width ratio keeps the food in, even when they're chomping excitedly.  If you have a flat-faced breed, you should check out the cat bowls with a lower rim in a separate product listing.
The XXS bowl is perfect for small animals and cats too.  See a separate product listing for a low height cat bowl.
Your pet will love eating and drinking from these fun, eco-friendly bowls!
Note:  Not all colors are available in all sizes due to manufacturer availability.  Some colors have been discontinued.