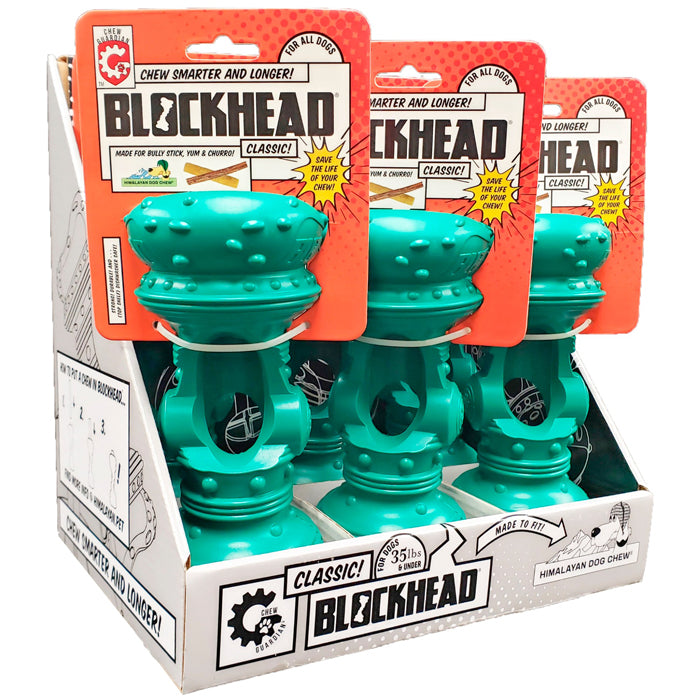 Does your dog chew things faster than a speeding bullet?  Blockhead is here to save the day!  It's a fun toy that slows down the chewing time on your dog's favorite chew.   Strong and durable it holds any type of chew, from bully sticks, to apples, to peanut butter; while giving your dog plenty of chewing entertainment.  It's easy to use too!
Extends the life of your dog's chew.

It's easy to use, simply slide the treat in to hold it in place. - it's now ready for your dog to enjoy and have fun.

Provides safety for dogs that gulp down/swallow chews.

Constructed with durable, Synthetic Rubber.

Top shelf dishwasher safe.
We recommend Barkworthies Bully Sticks, Whimzee Sticks, Chix Sticks, Joy Sticks, Crumps Plaque Busters, or Barkworthies Cow Tails all sold at Fun Time Dog Shop to put inside the Block for hours of chewing fun!
Blockhead is part of the Guardian Chew family line of chew holders from Himalayan Pet Supply.  Also see the Jughead and Bonehead chew holders to entertain & provide safety for your dog!