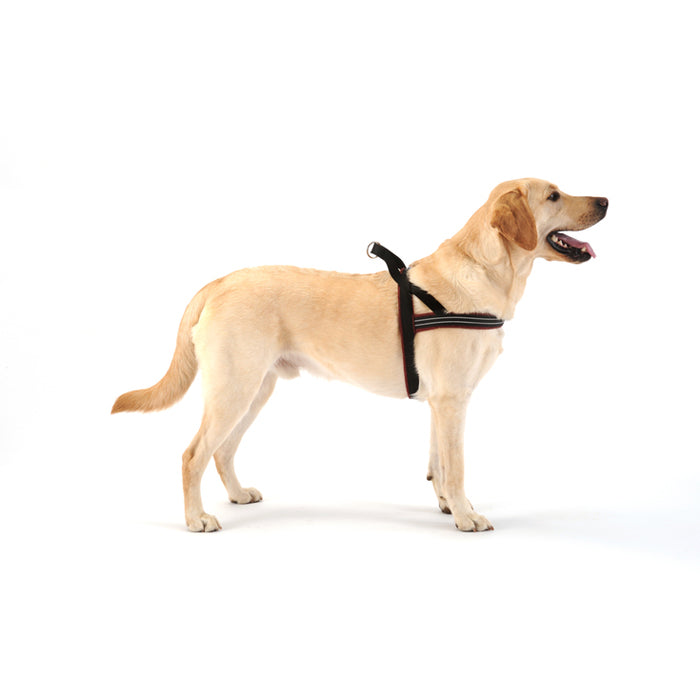 A customer favorite, the ComfortFlex® Sport Harness offers you and your dog only the highest standards of safety, simplicity and security.  Unlike many harnesses, the ComfortFlex Sport Harness is designed to protect sensitive areas, like your dogs throat and underarm, during any level of exercise.
Due to the dynamic position of the leash connection, pressure is always directed directly to the chest, never riding up on the dogs throat.  The simple yet effective design also lets your dog retain a full range of motion without having to worry about underarm irritation or chafing.
Ergonomic design allowing for a full range of motion with no irritation.

Fully padded nylon construction with reflective strapping across the chest.

Incredibly easy to put on your dog.
Secures with a Velcro strap safety snap.
Reflective Nylon strapping is easily seen in low light situations.

Machine washable (line dry).

Made in the USA.
Available in 11 Colors:
Red,  Neon Pink,  Berry,  Hunter Orange,  Saffron Yellow,  Kelly Green,  Blue Jay,  Mariner Blue,  Purple,  Black, &  Patriot 

9 Sizes for a Perfect Fit 
(girth measurement):
P
- 12.5" to 15.5"
XXS
- 15.5" to 18.5"
XS
- 18" to 20.5"
S
- 20.5" to 23.5"
S/M
- 21" to 25"
M
- 24" to 28"
M/L
- 27.5 to 32"
L
- 28.5" to 33.5"
XL
- 32" to 36"
(Measure your dogs Girth at the widest point)
Getting your dog into this harness is incredibly easy.  Just drop it over your dogs head, secure the Velcro strap around his girth and connect the safety snap.  With very little practice, this can even be done with just one hand.
The Fun Time Dogs highly recommend the ComfortFlex Harness!  It protects your dog's throat and is super simple to use.  
Note:  Due to low demand we only carry a limited supply of size XL, we are happy to order a color for you if we are out of stock.  Simply contact us and we will order it for you and have it in the mail in 3 or 4 days.