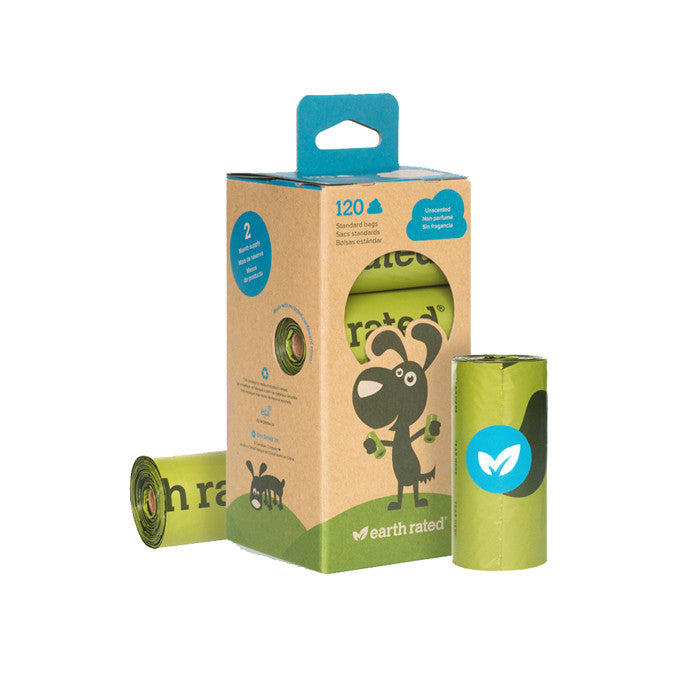 PoopBags was created to help care for the environment and to make picking up poop a little more fun.  The industry leader in terms of quality, strength, and affordability.  They are bigger, thicker, & tougher than all bags on the market.  Plus, they are totally leak-proof.  Earth Rated looked at the littlest of details, as even the rolls' core & packaging is made from recycled content!
Naturally scented with lavender - you won't mind holding on until properly disposed. Also available in unscented.
Extra long measuring 9" x 11" so you or your sleeve won't make unwanted contact.
Comes in convenient small rolls that easily fit into standard dispensers.
Just a few cents a scoop.
Available Products:
Green Travel Dispenser - $2.95
Holds a single roll & has a velcro strap to attach to your pants, belt or wrist and a clip to attach the filled bag on to. Refillable.
Box of 8 Rolls - $7.95
for a total of 120 bags
Value Pack - $12.95
Bulk box of 300 individual bags on a roll
A fantastic bag for scooping up even the largest of piles, that smells great & is friendly to our planet!
Our product testers LOVE these bage - very durable!