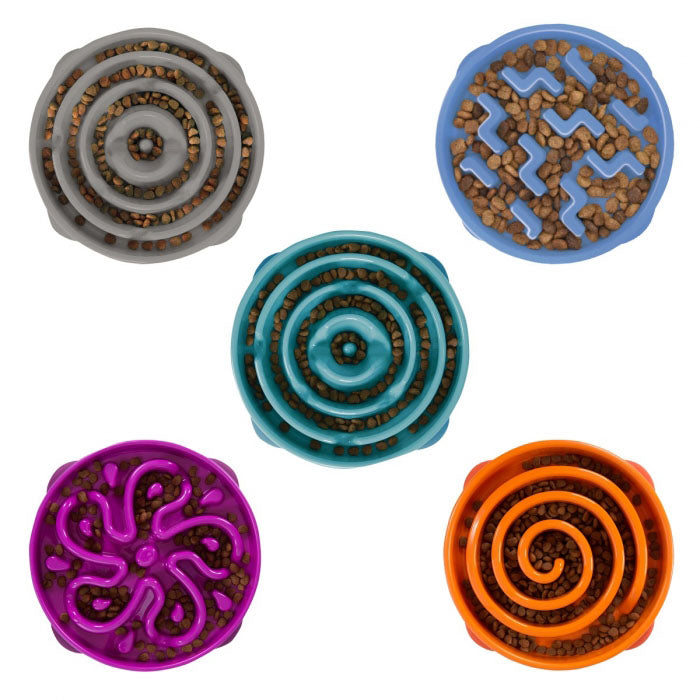 Does your dog think mealtimes are a race to finish? If so, this unhealthy habit can be resolved with Fun Feeders, meal-lengthening bowls with ridges and mazes to slow your pup down. Fun Feeders keep pups engaged for up to 10x longer at chow time, which improves digestion while helping furry friends eat at a healthy pace!
Promotes fun, healthy eating.
Helps prevent bloat, regurgitation & canine obesity.
Made with high-quality, food-safe ABS plastic.
Non-slip base to hold bowl in place.
BPA, PVC & Phthalate Free.
Top rack, dishwasher safe.</p>
Available in 6 Unique Designs
:
Pink Flower Feeder
Coral Feeder
Green Feeder
Blue Feeder
Grey Feeder
Tiny Light Green Maze Feeder
3 Sizes to Fit Your Pup's Needs
:
Tiny
- holds 3/4 cup - 5" in diameter & 1" high - $8.95
Small
- holds 2 cups - 8" in diameter & 2.5" high - $11.95
Large
- holds 4 cups - 10" diameter & 2.7" high - $15.95
Provide your dog a with food bowl that is designed for safe eating!
NOTE: Out of stock of the small size blue & pink bowls - back in soon!