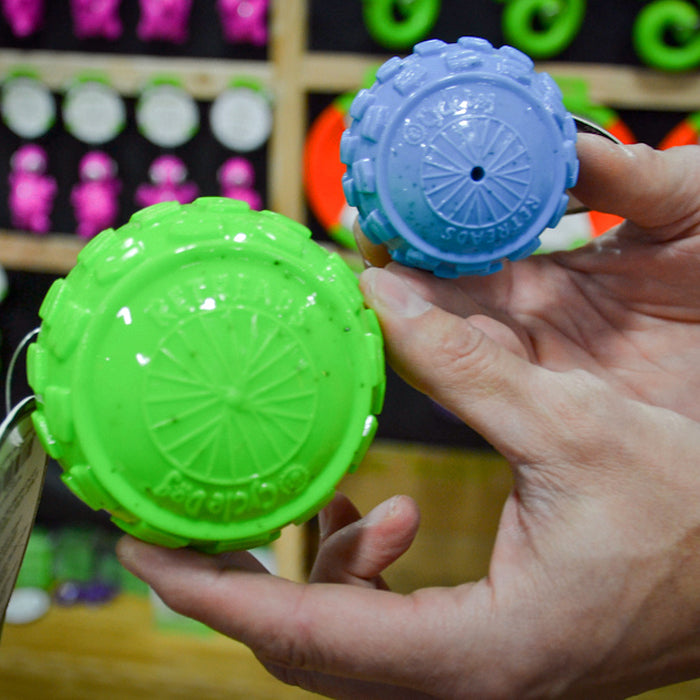 Your dog will be bouncing with joy with the High Roller Ball.  Not your average ball, it bounces, floats, squeaks and is great for tossing!   A versatile ball for all of your dog's playing needs. 
Constructed with Ecolast post-consumer recycled material.
Unique shape creates an erratic bounce!
ToughSqueak squeaker that is internally molded for extra durability.
SuperFloat water toy, floats above the water's surface.
Made in the USA!
Available in 3 Sizes:
Standard -  2.5″ (6.1cm) diameter (size of a tennis ball) - $7.95
Large - 3.5″ (8.9cm) diameter (size of of a soft ball) - $11.95

2 Fun Colors:
Blue -or- Green
Cycle Dog's Ecolast rubber toys are a blend of high durability rubber and post-consumer recycled rubber from bicycle inner tubes.  The reclaimed tubes are a great material because they dry quickly and resist bacteria growth.  Cycle Dog saves over 100,000 tubes from ending up in landfills each year.  That is enough to completely fill four 40-foot tractor trailers!
Note:  The color purple is no longer available, only 1 let in stock.