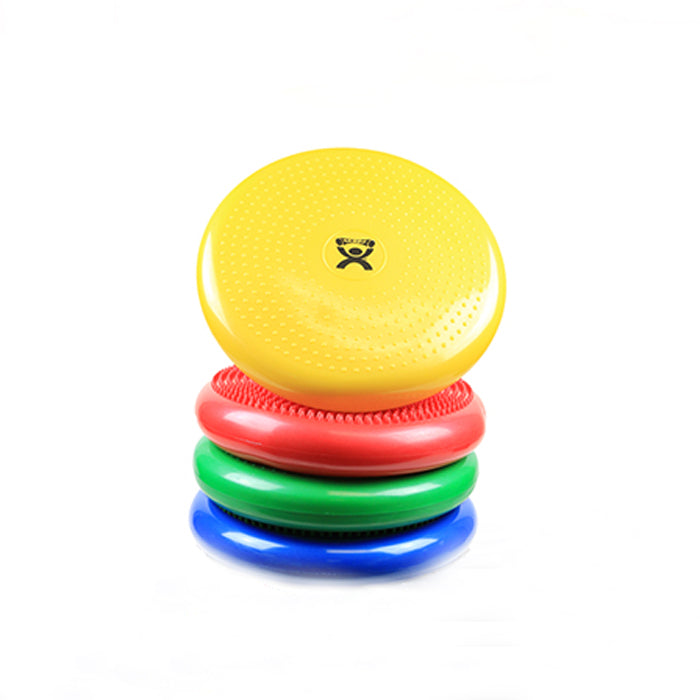 CanDo inflatable balance discs mimics the movement and shape of an Inflatable ball on a flat surface.   Use it on the floor as a standing disc for balance training, proprioception and strengthening.
Each disc has one nubby side for tactile feedback & stimulation, and one flat side.

Disc inflates & deflates with standard pump and standard ball inflator needle.

Vary the inflation level to change the level of vestibular challenge.

Available in 4 colors for 

aesthetic purposes &

 2 sizes.
Great for use with your dog and for your own exercise needs!
Available in 2 Sizes:
14 inch (35 cm) - $18.95
24 inch (60 cm) - $46.95
Available in Your Choice of 4 Colors:
Blue, Red, Yellow, & Green
CanDo® exercise products have been used by physical therapists, athletic trainers and the general public since the 1980s.  Many of you who have received therapy after an injury have probably used a CanDo® exercise product during your rehabilitation.  A great product for people that your dog can easily use too at a much lower cost than competing brands made for pets.
You can use the Balance Discs in several ways in your dog's fitness routine.  Stack your Balance Disc under a Wobble Board (see photo), or a small disc on a large disc for variety. The possibilities are limitless!