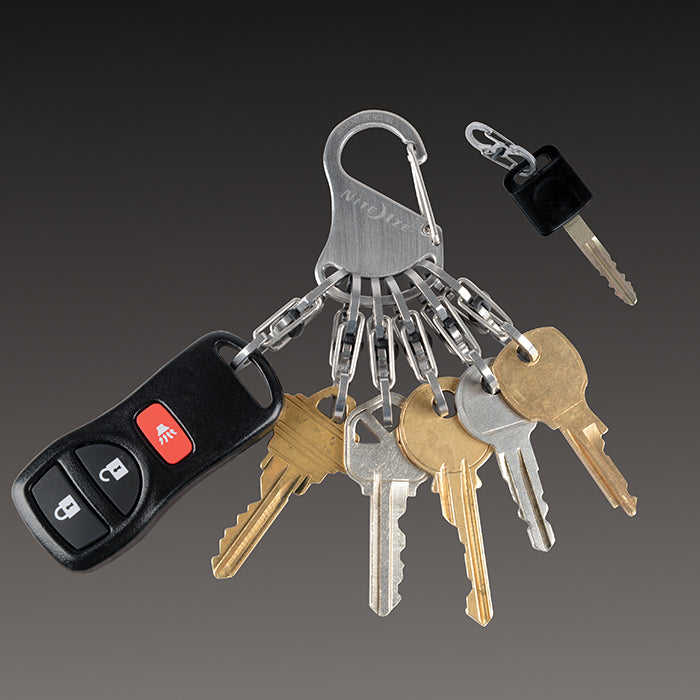 The best way to organize your keys!  The Nite Ize KeyRack is as functional as it is compact, simple, useful, and fun.  Its high quality stainless steel carabiner clip a secure gate closure on one end, allowing you to clip your keys to an existing key ring, belt loop, purse strap, zipper pull-anything with a loop or D-ring.
Holds six different-colored plastic S-Biners, perfectly sized to hold 6 separate keys.
Identify your keys by color, and attach and release them individually from the Key Rack with ease.
No more fiddling with split rings or fumbling to find the key you need.
Key Rack is perfect for quick and easy sharing of keys with family members, leaving a key for a valet or babysitter, and taking a single key when you're out on a run or ride.
S-Binder option with Microlock that locks each 

lock securely not to open.

Measures 

2.85" long x 1.19" wide.
Available in 3 Styles:
Black Stainless Steel w/ S-Binder Microlock - $7.95
Silver Stainless Steel Body w/ S-Binder Microlock - $8.95
Silver Stainless Steel Body & Bottle Opener w/ S-Binder - $5.59
We bet you can't think of a single person who doesn't need, want, and have to have one of these amazing KeyRacks!