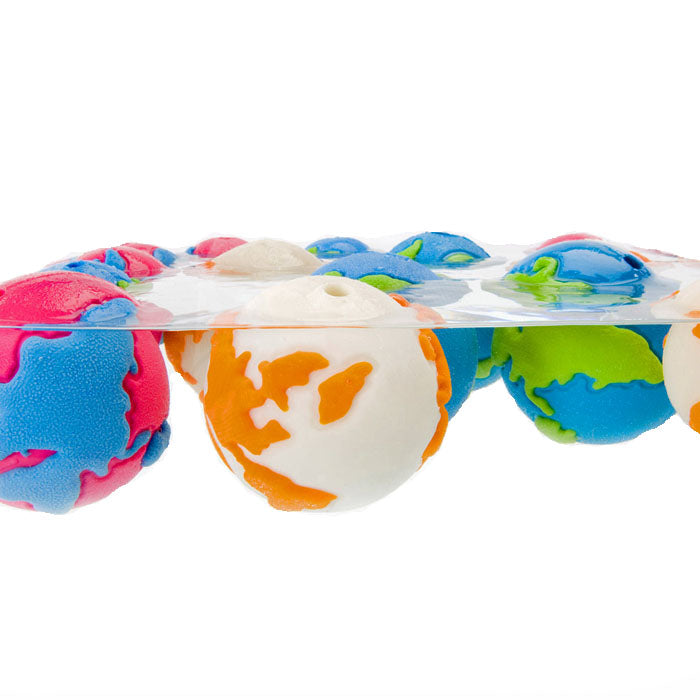 Planet Dog knows just what dogs like, a great ball for tuff play!  They worked with scientists for years to perfect the Orbee-Tuff material that is FDA-approved, non-toxic, recyclable, durable, pliable, chewy, and best of all FUN!  Rated a top product by numerous magazines and called the "world's best dog ball" by industry experts.
Soft, buoyant & bouncy Orbee-Tuff material.
Highly durable for even the best of chewers.
Bright colors to be easy on the eyes.
Mint Scented.
Made in the USA

100% GUARANTEED.  Any time.  Every time.
Available in 3 Sizes:
Small - 2 1/4" diameter - $9.95 
Medium - 3" diameter - $12.95
Large - 4" diameter - $18.95
3 Colors to Choose from:
- Blue/Green
- Pink/Blue
- Glow/Orange
Dogs just love this top rated ball, plus it is guaranteed for 100% satisfaction!
Orbee-tuff is a plastic developed by Planet Dog and has no latex in it.  It's a thermo plastic elastomer (TPE) to be precise, but instead of using any of the chemical softeners (such as Phthalates or BPAs) used in vinyl and other plastics Planet Dog uses White Olefinic oil to soften, which is very much like Baby oil and completely safe.  They also add a small amount of essential Peppermint oil.  Planet Dog toys have been tested and shown to be non-toxic many times since Orbee-tuff was introduced over 10 years ago.  Durable & popular with all sizes and types of dogs!