Ricochet Electronic Dog Toy
PetSafe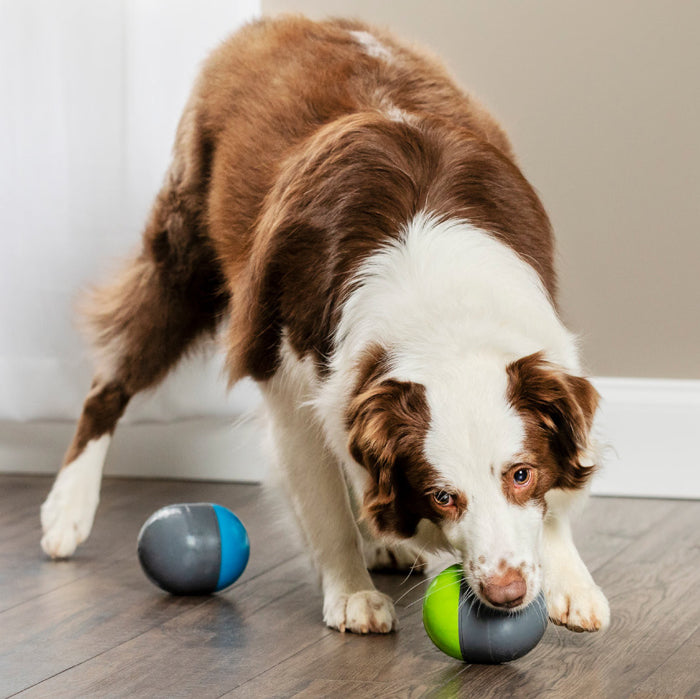 This new toy will give your dog a new type of fun!  The PetSafe® Ricochet Electronic Dog Toy challenges your dog to capture the squeaking egg shaped toys.  As your dog plays with one of the interactive paired toys, an exciting squeak sound is heard from the other toy.  When your dog investigates the second toy, the sound bounces back to the first toy.  Your dog will love trying to find the squeaky sound between the two toys.  While not a chew toy, the Ricochet is durable enough for intense play.
Automatic Exercise - Dogs will love to chase the squeak between the toys, and you will love knowing your dog is staying active.

When your dog plays with one toy, the PetSafe® Ricochet interacts with the other toy to make a squeak sound from up to 30 ft. away.

Provides mental stimulation - the moving squeak provides a fun puzzle for your dog.

No Mess Toy - The PetSafe® Ricochet has no stuffing or fabric to tear.

Long-Lasting Play - batteries last up to a month of daily use, automatic shut-off after 60 minutes of no activity.

Award-Winning Innovation - Winner of the 2019 Pet Business Industry Recognition Award (IRA) for exciting and functional design!
One-Year Warranty

Each toy uses 3 AAA batteries (not included)
Change up the game by hiding one of the toys behind furniture or in a nearby room. The toys have a range of up to 30 feet. When your dog is done for the day, it will automatically turn off after 60 minutes of non-interaction to conserve the battery life.
The PetSafe® Ricochet is the perfect addition to your dog's toy box.