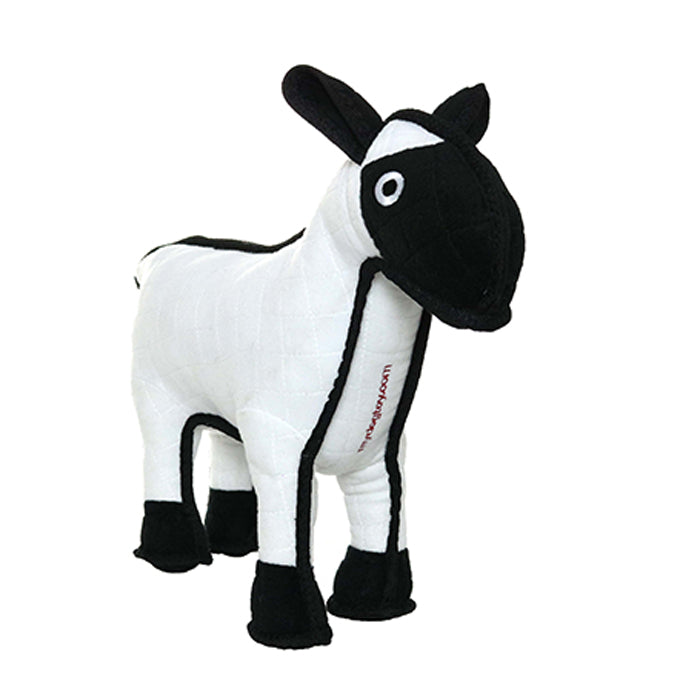 Baaaaaa!  The Tuffy Sheep is one of the most durable toys on the market!   He was traditionally counted on to leap over beds at night helping humans sleep, now he makes an outstanding play pal for your pup too!  Perfect for medium to large size dogs.
Constructed with 3 layers of tough material and 7 layers of stitching, this lovable tough toy is made for play!
Constructed of 1 inner layer of industrial grade 600D luggage material, 1 inner layer of plastic coating, & 1 outer layer of soft fleece.
2 layers of linear stitching covered with black trim with an additional 3 layers of stitches for a total of 7 seams.
Rated 8 out of 10 on the Tuff Scale.
Great for indoor and outdoor play.
Washable and they float!
Measures 18" long x 6.5" wide x 14" high.
The Tuffy Pet Toys by VIP are the most durable plush toys available.   While no toy is indestructible, Tuffy toys give your dog a run for the money....our customers love them!  See the product listings for other Tuffy toys we carry.
The Tuffy Series toys are designed to be play toys and not chew toys.   No part of any toy should be ingested as injury may result.