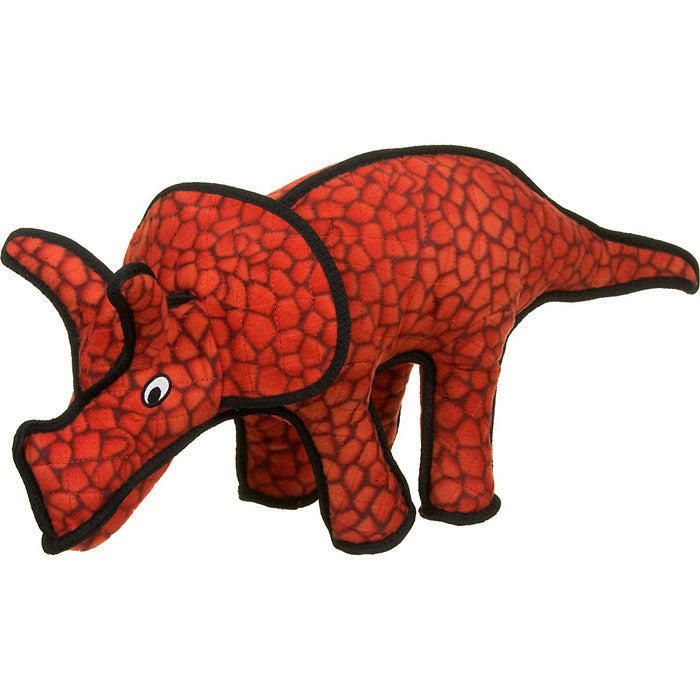 Take your dog back to prehistoric times where along the shadows of the mountains walks a legend in armor plate protection.  The tri-horned dinosaur, better known as Triceratops, forages on berries, grass and household shrubbery.  This legend is waiting to meet your dog and engage in some super tough play. 
Constructed with 3 layers of material - 1 inner layer of industrial grade 600D luggage material, 1 inner layer of plastic coating, and 1 outer layer of soft fleece.
Sewn with 2 layers of cross-stitch & 2 layers of linear stitching covered with black trim with an additional 3 layers of stitches for a total of 7 seams.
Floats for water fun!
Rated 8 out of 10 on the toughness scale.
Stuffed with safe, non-toxic fiber.
No squeakers inside.
Machine Washable.
Available in 2 Sizes:
Junior (for dogs under 35 lbs) - measures 16" x 7" x 3" - $25.95
Large - (for medium to large dogs) - measures 30" x 10" x 13" - $39.95
Your Pooch will be pleased with this fun and adventurous toy!
Tuffy Pet Toys are the most durable plush toys available.  All the layers of this toy are bonded and sewn together to make one "Tuff" Layer.  Unlike most toys, they have been sewn multiple times.  Most toys have just one seam to hold the toy together.  With Tuffy toys, webbing is sewn around the edges of the toy and then the edges are sewn together to make each toy Tuff.  These toys are machine washable (air dry) and float.
Warning : Your dogs safety is Your Responsibility.  The Tuffy's Series Toys are designed to be play toys and not chew toys.  Supervise your dog when playing with their Tuffy toy to ensure they do not use it as a chew.  No Part of any toy should be ingested as injury may result.