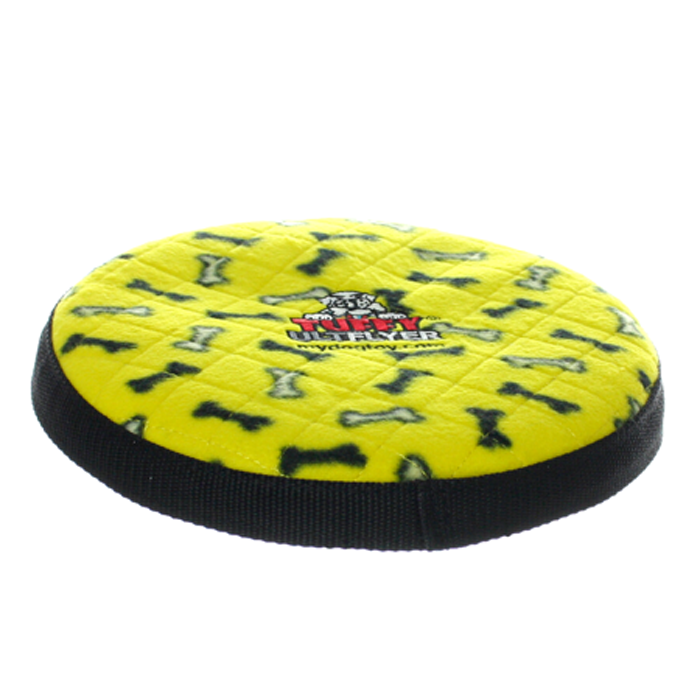 Your dog will enjoy high flying fun with Tuffy's Ultimate Flyer toy.  A great toy to teach catch & retrieve and provides hours of exercise.  The soft edges ensure comfort for dogs while catching.  Plus, Tuffy Toys are the most durable plush toy on the market!
Constructed with 3 layers of material; 1 inner layers of industrial grade 600D luggage material, 1 inner layer of plastic coating, & 1 outer layer of soft fleece.
Sewn with 2 layers of cross-stitch & 2 layers of linear stitching covered with black trim with an additional 3 layers of stitches for a total of 7 seams.
Rated 8 out of 10 on the Tuff Scale.
Easy to toss, great for indoor & outdoor play.
1 squeaker inside for squeaky fun!.
Washable and Floats!!
Measures 10" in diameter and 1.2" high.
Tuffy Pet Toys are the most durable plush toys available.  While no toy is indestructible, this toy will give your dog a run for the money.  Our canine customers love them! 
The Tuffy Series toys are designed to be play toys and not chew toys.   No part of any toy should be ingested as injury may result.